Methi Matar Malai
METHI MATAR MALAI IS A VERY POPULAR DISH. KIDS LOVE THIS DISH TOO. ITS NOT A SPICY AND NO BITTER TASTE OF METHI DUE TO CREAM AND CASHEW PASTE.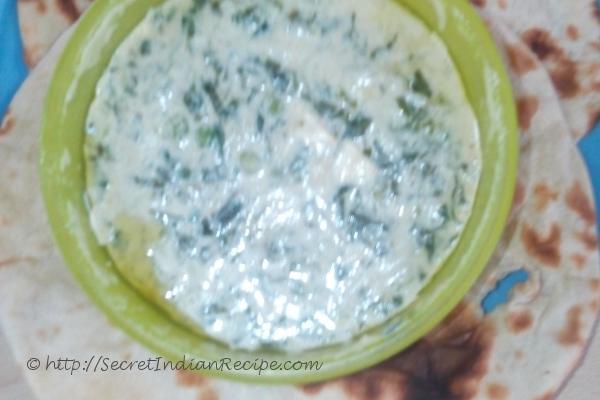 Ingredients:
3 CUPS OF CHOPPED METHI LEAVES
2 CUPS OF MATAR
1 CUP OF PANEER CUBES ( OPTIONAL)
1 PACKET AMUL CREAM OR FRESH HOME MADE CREAM
1 CUP WATER
1 AND 1/2 TEAS SPOON OF HOME MADE GARAM MASALA POWDER
OIL
SALT TO TASTE
INGREDIENTS FOR THE MASALA PASETE:
2 MEDIUM SIZE ONIONS CHOPPED
2 TSP CUMIN SEEDS
5-6 GARLIC CLOVES CHOPPED
1/2 INCH GINGER CHOPPED
3 GREEN CHILIES CHOPPED
INGREDIENTS FOR KAJU PASTE
1/2 CUP OF KAJU SAOKED IN WATER FOR 10 MINUTES.
Directions:
ADD ALL THE INGREDIENTS TO MAKE THE PASTE FOR MASALA IN THE GRINDER. ADD LITTTLE WATER WHILE GRINDING. MAKE SMOOTH PASTE. KEEP ASIDE. MAKE KAJU PASTE IN THE BLENDER ADDING LITTLE WATER. KEEP ASIDE. TAKE METHI AND MATAR IN THE PAN ADD 2 CUPS OF WATER BOILED FOR 5-7 MINUTES AND KEEP ASIDE. HEAT OIL IN A KADHAI. ADD GROUND PASTE FRY THE MASALA FOR 7-8 MINUTES. ADD KAJU PASTE AND STIR WELL. ADD HOME MADE GARAM MASALA POWDER AND FRY 2 MINUTES MORE. ADD METHI AND MATAR AND STIR WELL ADD LITTER WATER SLAT TO TASTE AND SIMMER FOR 5 MINUTES. ADD PANEER CUBES AND CREAM AND MIX WELL. SIMMER FOR 5-6 MINUTES ON A LOW FLAME. SERVE METHI MATAR MALAI WITH NAAN OR ROTI.