Methi Matar Malai Paneer (cottage Cheese Cooked With Fenugreek, Peas And Cream)
Easy, healthy and best alternative to regular 'Malai Paneer'. I make this the traditional way at home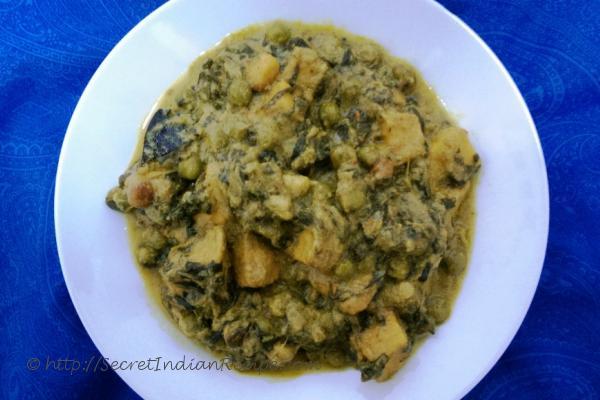 Ingredients:
Fenugreek leaves - 1 cup
Peas - 1/2 cup
Paneer - cubes 200 gms
Onion paste - Of 2 onions
Cream (Malai) - 2 Tbsp
Ginger garlic green chili paste - 1 tbsp (Blending proportion 1:2:1)
Cashew paste- 2 tbsp
Dry khada Masala (All 1/2 Tsp) - Cumin seeds, black cardamom, pepper corns, cinnamon (1/2 inch)
Red Chili powder - 1 tsp
Turmeric Powder - 1/ 2 tsp
Tomatoes - 2 finely chopped
Garam Masala - 1/2 tsp
Oil 6 Tbsp
Salt to taste
Cumin seeds - 1 tsp
Sugar - 1/2 tsp
Directions:
Fry the paneer cubes and set aside. Clean and wash fenugreek leaves well.
First, take all dry roasted khada masala and grind to a fine powder.
In a pan heat oil, add 1 tsp cumin seeds and saute. When they stop crackling add onion paste and 1/2 tsp salt.
Keep sauteing till the raw smell from onion paste diminishes.
Add ginger garlic and chili paste, turmeric, red chili powder and tomatoes.
Saute on high flame for a min, reduce flame cover and cook for 2-3 mins
When tomatoes are nice and soft add cashew paste and saute for a min. Now add the peas and fenugreek leaves, mix well. Add the khada masala powder, 1/2 tsp sugar and mix again.
Add water if the mixture gets too thick (less than a quarter cup should do) cook till peas and fenugreek are well cooked.
Now add the paneer and garam masala. Cover and cook for 5 mins on medium heat.
Turn off the heat and add cream. Mix well and serve hot with chapatis
Footnotes:
If using frozen methi, paneer and peas, thaw them well in advance.