Methi Rotis (indian Bread Infused With Fenugreek Leaves)
Methi rotis are usually prepared with methi alone but I like rotis kneaded with leaves to look greenish. Now grinding or pureeing methi could make the rotis taste bitter. So I add a little bit of pureed spinach to keep my rotis green but they have fresh fenugreek leaves kneaded into them to give them more methi flavour than palak or the Indian spinach as it is known fondly. Inspired by the thepla recipe I add a little oil and spices too but I omit the curd and gram flour and don't baste these breads with oil. They are cooked over fire like phulka (typical Indian flat bread). This does burn the fenugreek leaves here and there but unless I do this I don't find the leaves cooked and if you avoid cooking with oil this is a better method.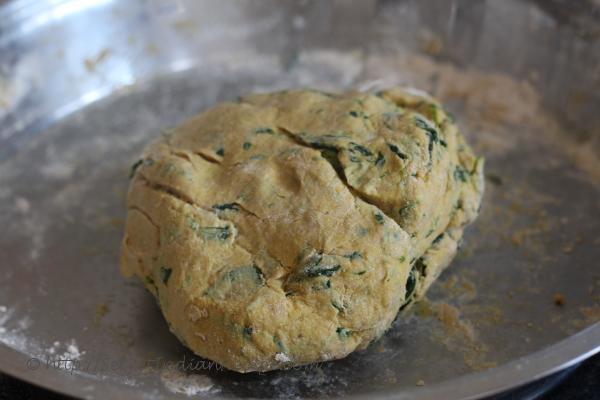 Ingredients:
Fenugreek leaves- 3 bunches
Spinach - 2 bunches
Whole wheat flour- 1 1/2 cups
Garlic- 7 cloves
Garam masala- 1/2 tsp
Water for kneading
Salt- taste
Oil- for kneading
Carom seeds- 1 tsp
Directions:
Clean the fenugreek leaves. Remember to throw the stalks away as they stay raw after cooking the rotis. Clean the spinach and chop them too.
Blanch the spinach and puree it along with the garlic cloves. Add the fenugreek leaves into a bowl and mash them using your fingers the leaves should be thoroughly bruised.
In the same bowl add the flour, salt, carom seeds and garam masala. Start kneading using water slowly.
Add pureed spinach and oil and continue to knead pouring water slowly till you form pliable dough.
Make small balls and roll them into small discs. Heat the girdle and cook the flatbread on both sides for 35 seconds each.
Transfer the rotis onto the fire removing the girdle the rotis will puff immediately. Take it off the flame and serve hot with curry and pickle.