Methi Wali Makki Di Roti ( Fenugreek Leaves Bread With Clarified Butter)
Punjab is India's "bread basket" and flat breads are made everyday using various grain and bean flours. Traditionally Makki di roti makes a splendid combination with sarson ka saag (cooked mustard greens) but it can also be cooked into other ways to relish with yogurt and butter. This recipe is flavoured with fresh methi (fenugreek leaves). Rich, pungent and slightly bitter, fenugreek leaves are extremely nutritious and turns a plain makki ki roti into something delicious and healthy.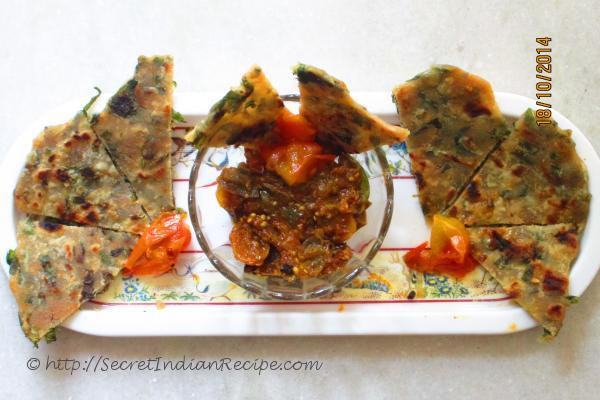 Ingredients:
Maize flour - 2 cups
Fresh fenugreek leaves(chopped) - 1 cup
Onion - 1 (very finely chopped)
Green chillies - 2 (finely chopped)
Salt to taste
Hot water to knead the flour
Ghee (clarified butter) or oil to fry the roti (bread)
Directions:
Sieve the flour. Wash, remove the stem and chop the fenugreek leaves.
Mix the chopped fenugreek leaves in the flour, add salt, chopped onions and green chillies.
Just before making the rotis, knead the flour with hot water to a smooth dough. Do not knead the dough too much in advance.
Tear an old polythene bag into two halves. Keep one piece on the rolling platform.
Put one ball of the kneaded dough on the polythene. Cover with the other piece, such that there is a plastic cover above and beneath the ball. Roll carefully to a slightly thick roti.
Remove the polythene. Heat the griddle (tawa). Put the roti on the hot tawa and cook on both sides, and fry the roti like paratha on low flame.
Footnotes:
For a delicious taste serve this recipe with fresh tomato chutney.