Methu Vadai - Vada With Pepper And Coriander Leaves
Methu or Medhu Vada is a simple dish, and is made up of urad dal, it is rich in minerals and vitamins. These mouth-watering vadas can be prepared very easily and consume very less time as compared to other vada varieties. It took a long time for me to get to the near perfection of making vada recipes especially with its shape. It's prepared in every household in Tamilnadu on special occasions. It goes well with coconut chutney which compliment the taste of vadas. Vadas can also be served with tomato chutney or groundnut chutney.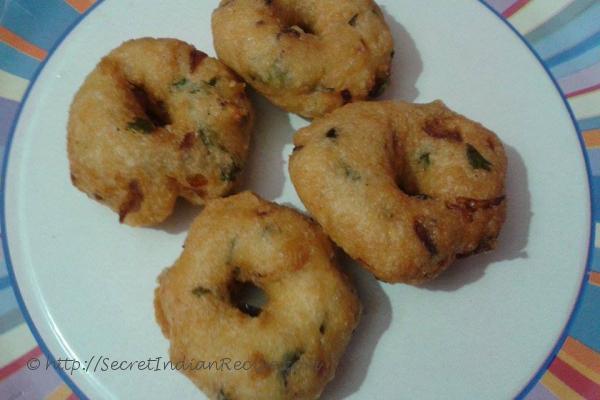 Ingredients:
Urad dal - 1/2 kg. (Peeled split black gram)
Onions - 1/4 kg.
Green chili - 2 chopped
Pepper corns - 1 tbsp.
Dry Rice flour - 1 cup (approx. 50 grams)
Coriander leaves - finely chopped
Ginger - little.
Baking soda - 2 pinch
Salt
Vegetable oil - 1/2 litres
Plantain leaf or stiff plastic cover - to the size of a small paper
Directions:
Wash the dal and soak dal in water for 2 hours.
After 2 hours remove the dal from water and add the dal in a mixer along with chopped ginger.
Add very little water (approx. 2 or 3 tbsp.) grind to a fine paste.
Remove the ground dal in a bowl and add salt as per taste along with peppercorns and finely chopped Green chilies and chopped coriander leaves.
Now add baking soda, and dry rice flour to the batter and mix it well with clean hands or whisk. The consistency should not be too runny, it should be soft yet managable
Keep this mixture aside for 5 minutes. Till then, place a frying pan on low flame and add oil for deep frying.
Keep the gas flame on low. It is always good for vadas to be fried on low flame so that they don't get burnt and inner portion of the vada cooks well.
Cut and clean a plantain leaf or you can use a thick plastic sheet or cover to make the round shape for vadas.
In a bowl keep water alongside so you can soak your fingers while making the vada shapes. Vada batter won't stick to your hands if you soak your fingers in water.
Now soak your fingers with water and apply water on the surface of plantain leaf or plastic sheet, so the vada batter won't stick to the leaf.
Take a small ball of batter mixture and place it on the plantain leaf and make a round shape and a small hole in the centre of the vada as seen in the picture.
After making the shape for the vada mixture, soak your fingers once in water so and you can easily remove the vada batter from the leaf and easily slide it in oil.
Carefully slide the vada mixture one by one into the oil. Once it turns golden brown on one side, turn it to the other side to cook.
When you see that both sides of vada have turned golden brown carefully remove it from the oil using a spatula.
Place the vadas on the absorbent paper for it to absorb the excess oil in vada.
Serve it hot with coconut chutney, sambar or groundnut chutney.
Footnotes:
Adding dry rice flour is optional, I use it because it gives the crispy texture to vada.