Mewa Paneer Kofta (dry Fruits Stuffed Cottage Cheese Dumplings In Creamy Gravy)
Here is another Kofta recipe from my secret kitchen. Paneer like potato is a versatile ingredient. You can cook a hundred or even more recipes of Paneer. The reason being, it has a very subtle taste and smell and hence can be cooked in any gravy and can be added to any vegetables.
Mewa Paneer kofta, as the name suggest, have Paneer and Mewa (dry fruits) as main ingredients. Slivers of dry fruits are stuffed in soft, slightly flavoured, paneer dumplings and then are cooked in creamy gravy. The dumplings/koftas, without the gravy can be served as appetizer.
Use home made fresh Paneer for better result. Since the Paneer dumplings/ koftas are soft, add them to gravy, just before serving or plating them as they will break if left in gravy for a long time.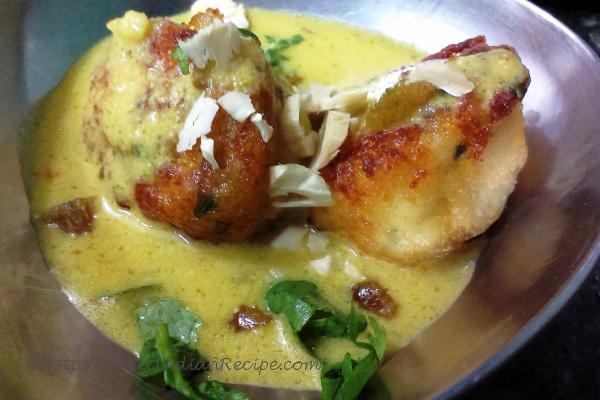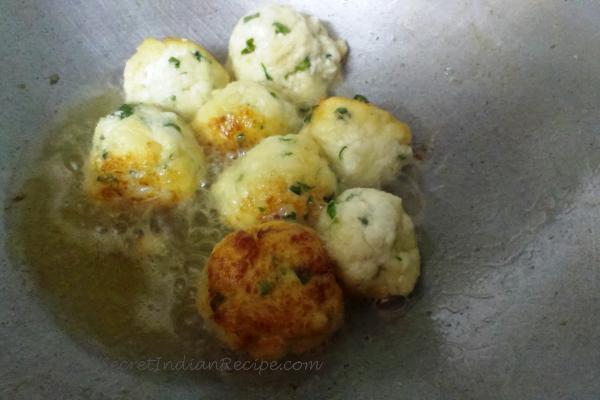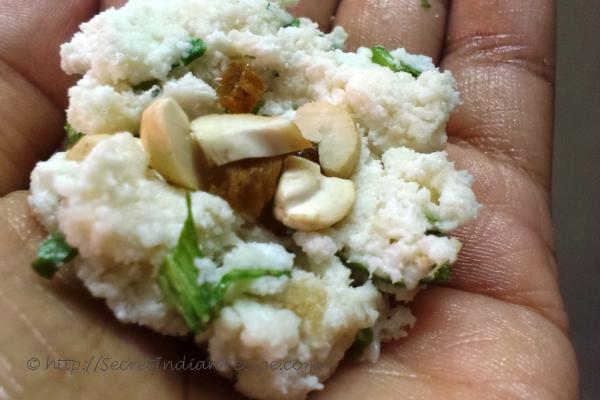 Ingredients:
For Kofta
Paneer (Cottage cheese) – 200 grams
Cashew – 4-5 (chopped finely)
Raisins – 5-6 (chopped finely)
Coriander leaves – 3-4 tablespoon (chopped)
Green chilies – 2-3 (chopped)
Ginger – ½ tablespoon (chooped)
All purpose flour – 5-6 tablespoons
Salt to taste
Oil to fry Koftas
For Gravy
Onion – 1 small sized
Ginger – ½ inch
Whole red chili – 1-2
Cumin seeds – ½ tablespoon
Turmeric powder – ¼ tablespoon
Cashew paste – 2-3 tablespoon
Cream – 3-4 tablespoon
Salt and Sugar to taste
Chopped coriander leaves and dry fruits to garnish
Directions:
To make koftas, first mash the paneer in a bowl. Add chopped coriander, ginger, green chilies and salt to taste and mix.
Divide the mixture into eight equal parts and roll them into small rounded balls. Then slightly press at the centre to make space for the stuffing. Keep few chopped cashew and raisins and again roll them into balls. Dust all purpose flour over them once all the balls are stuffed.
Heat oil in a pan over medium heat. Then put it on low flame and fry these balls carefully till they turn brown. Take out and keep aside till you serve.
For the gravy grind onion, ginger, whole red chili and cumin with little water until it becomes a smooth paste.
Heat the remaining oil in a pan once more. Add the grounded masala paste and sauté over low flame till it leaves oil from the sides.
Add cashew paste, cream, salt and sugar to taste and bring it to a boil. You can add some water to get the desired consistency. After the boil cook for a minute and then switch off the gas.
For plating, keep the koftas in the middle and pour some gravy over it. Garnish with chopped coriander and dry fruits. Serve warm.