Mexican Nachos With Rotis (nachos On Indian Tortillas)
A hoteliers life is very tough on a day to day regular basis. This is the most exciting part of our job. It keeps us on our toes every time. One such incident still brings smile to me whenever I think of it. After a long tiring day I was preparing my handover for the next shift and suddenly the steward placed a fresh order of Mexican nachos. It was very frustrating whenever there is an order just at the time of shift change. To add salt to the injury I was shocked to see that nachos were finished. No other department use nachos from where I could have borrowed it. Time was running down quickly and I had already imagined my executive chef smacking me in briefing next day. Suddenly I got an idea and I ran down to tandoor and asked him to prepare two fulkas for me. With them I quickly made nachos and got it served immediately. To top it with cream, I even got admiration from the guest who was a well-known Bollywood actor. Nevertheless all's well that ends well.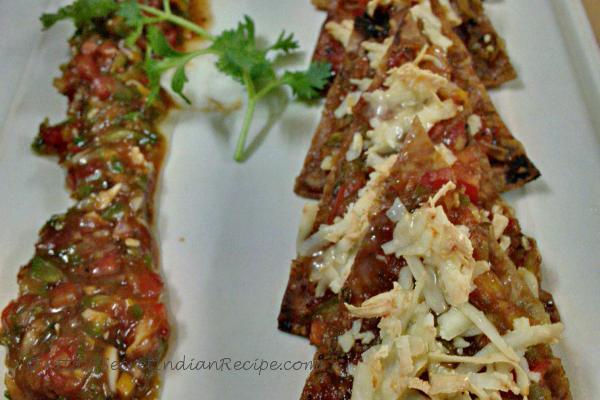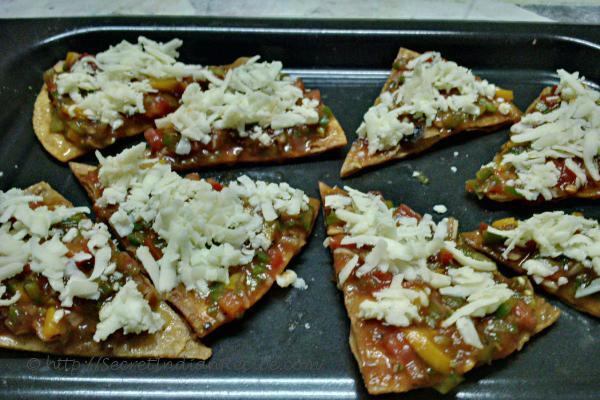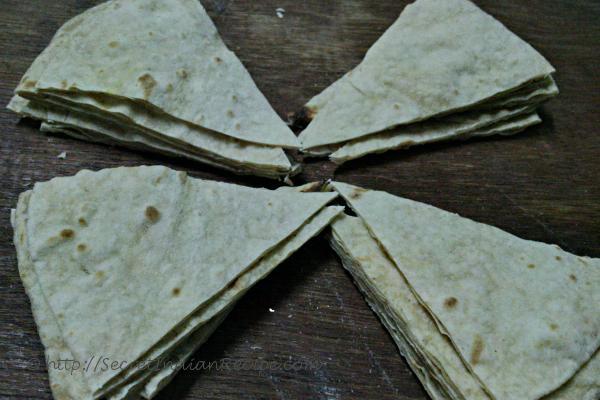 Ingredients:
Left over roti- 2
Salt- To taste
Oil- for deep frying
For Topping-
Chopped Onion- 1
Chopped Tomato- ½
Chopped Green Capsicum- ½
Chopped Red Pepper- ½
Chopped Yellow pepper- ½
Tomato ketchup- ½ cup
Oregano- 1tbsp
Chopped Green chilly- 2tbsp
Chopped Coriander leaves- 1tbsp
Lemon juice- 2tbsp
Processed grated cheese- 30gm
Directions:
Cut the roti into 1/6 as shown above in the picture.
Heat oil in a kadai and deep fry the roti's until it becomes crispy and gets a nice golden brown color.
Sprinkle salt on it and mix it well.
Now in a mixing bowl collect all the ingredients required for topping except cheese and toss it nicely with a spoon.
Pour this mixture over the roti slices and top it with cheese.
Then bake it in a preheated oven on 150°c for 45 sec to melt the cheese.
Serve it over a hot cup of coffee.
Footnotes:
If available then add jalapenos to it. It will give a tangy and spicy twist to it.
While mixing the topping avoid adding salt, or else the peppers will leave water. Mix salt just when you are about to pour the mixture on the rotis.