Millet Chilla With Hummus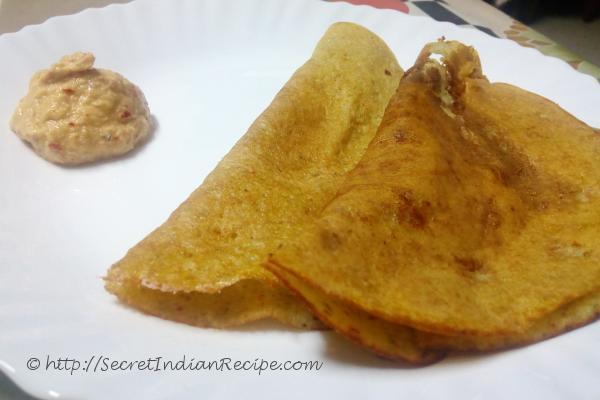 Ingredients:
1/2 Cup Raw rice
1/2 Cup Dalia
1/2 Cup Moong (whole)
1/2 Cup Chana Dal
1/2 Cup Urad Dal
1 Tsp Methi seeds
1/2 Cup Oats
1/2 Cup Poha
1/2 Tsp Turmeric Powder
1/2 Tsp Chilly Powder
1 Tsp Ginger (grated)
3-4 chopped Green chillies
Salt to taste
Oil as required for chillas to be made
Directions:
Soak rice, dalia, moong, chana dal, urad dal and methi seeds for atleast 2 hours.
Soak oats and poha for 5 minutes before grinding.
Grind all the ingredients. Make a fine paste out of it by putting green chillies and ginger.
Take out the barter in a bowl. Add turmeric powder, chilly power & salt , then mix it and cover. Keep this aside for an hour.
Heat a non-stick tawa & spread the chilla mixture. Cook it for a minute, add little oil and flip the chilla. Cook until light brown.
Serve hot with hummus.
Ingredients & Description for making Hummus: Kabuli chana 1/2 cup boiled, Extra virgin olive oil 2 Tbsp, Roasted sesame seeds , Red chilly flakes 1 Tsp, Garlic 1 pod, 1Tbsp Lemon juice, Salt to taste. Grind all the ingredients in a blender & make a fine paste out of it.