Mini Gluten-free Crackers
So I thought I should share this healthy, gluten-free recipe with you all today. These mini gluten-free crackers are not only beneficial for those with Celiac disease, but for anyone, as these are rich in fibre, omega-3 fatty acids and other nutrients. I would love to make them again and again as these mini crackers are just fun to pop into the mouth. The marriage of curry leaves, cumin, turmeric and fennel seeds add a good touch of Indian flavor to these baked goodies. I think, these qualify as great kiddie lunchbox snack as well, as these are tasty, crunchy, cute and loaded with nutrients! We loved these mini gluten-free crackers with a simple dip made by mixing hung curd with a little chaat masala and chopped green chillies.
However, there are a few things which I would like to mention here before you try this recipe. When you grind the toasted flaxseeds and then start kneading (by hand), these give out a lot of oil, which is normal. Even while baking, oil comes out of these gluten-free crackers. This is a blessing in disguise, as this oil makes the crackers crisp. The only problem with flaxseed powder and sorghum flour is that these are not flexible, unlike gluten-rich flours. So when you try to roll the dough with a rolling pin, it is quite brittle to handle. I tackled with the brittleness by adding an egg to the dough, which acted as a binder. I am sure, xanthan gum would give better results, but I have a thing for this gummy ingredient and I avoid it in my recipes. Adding the egg already did the trick and I could easily make mini crackers by pressing very small dough balls in between the palms of my hands: mission accomplished. The rest of the process (the actual baking) was a breeze!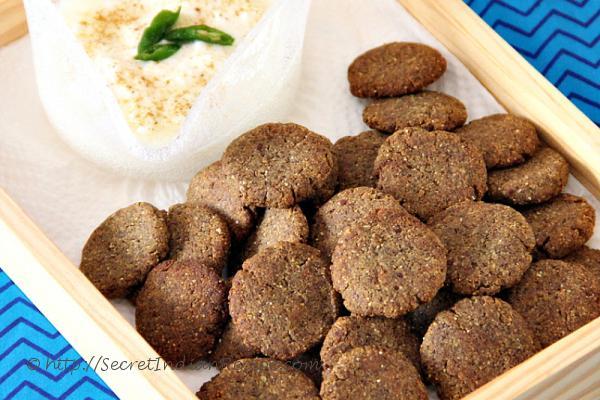 Ingredients:
Flax seeds or alsi: 200 g
White poppy seeds or khus-khus: 100 g
Brazil nuts: 8
Almonds: 7
Cumin seeds: ½ tsp
Dried curry leaves: 10–12
Sorghum flour or jowar atta: ¾ cup
Turmeric powder: ¼ tsp
Cooking salt: ¾ tsp
Sugar: 2 pinches
Egg: 1
Water: Just enough to bind the dough
Directions:
Toast the first six ingredients for 3–4 min on a medium flame.
Make a fine powder of these ingredients, after these come at room temperature.
Transfer the powder to a bowl. To this, add the turmeric powder, salt and sugar and mix well by hand. Add an egg and the sorghum flour. Pour in water in small spurts, just enough to make a tight dough. Knead for 5 min. The dough will be oily and a bit brittle.
Refrigerate the dough for 20 min. After 20 min, make very small balls out of the dough and flatten each by pressing each ball in between your palms, as thinly as possible.
Bake at 220C for 30 min, flipping each cracker at the end of 15 min.
Cool on a wire rack and store in an air-tight container. I liked eating these with homemade yogurt, flavoured with green chillies and chaat masala.