Mint Puffed Rice Snack/borugulu/murmuralu
This snack is full of flavours and different from routine puffed rice snack. Enoy this with a cup of tea or good for long journeys.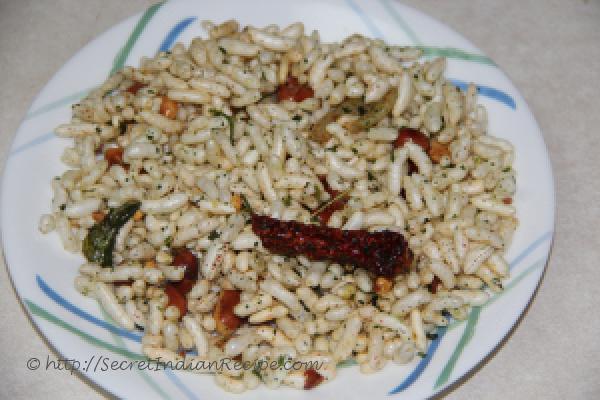 Ingredients:
Puffed rice – six cups
Mint leaves – fifteen leaves
Coriander leaves – one-fourth cup
Curry leaves – ten leaves
Salt – to taste
Ground nuts – five tblsp
Roasted chana dal – four tblsp
Red chilli – two
Sliced green chilli – three
Red chilli powder – one-fourth tsp
Sugar – half tsp
Oil – four tblsp
Turmeric powder – pinch
Sliced garlic – two
Directions:
In a bowl take puffed rice.
In a pan pour oil and heat it. Once oil is hot, add ground nuts and fry them.
Add the roasted ground nuts to the puffed rice bowl.
To the same pan add mint leaves, fry them until they are crispy.Then add them to puffed rice bowl.
In the same way fry curry leaves, coriander leaves, red chilli, green chilli , garlic and roasted chana dal one by one. Add to the puffed rice one by one. Now add turmeric powder, salt and sugar to the puffed rice.
Mix all of them. While mixing hand-crush the fried coriander leaves, mint leaves and curry leaves. Store in a airtight container.