Mirch Ka Salan ( Chilies Cooked In Groundnut Gravy)
Salan is a traditional gravy served with biryani in the Hyderabad region. My first encounter with a salan was when I had my first biryani in Bangalore but the Salan served with biryanis in Bangalore mostly are brinjal salan and they do not have a groundnut flavour. So this recipe surprised me when I had it the first time. It has a very sharp flavour and goes well with rotis as well as a traditional biryani or pulao.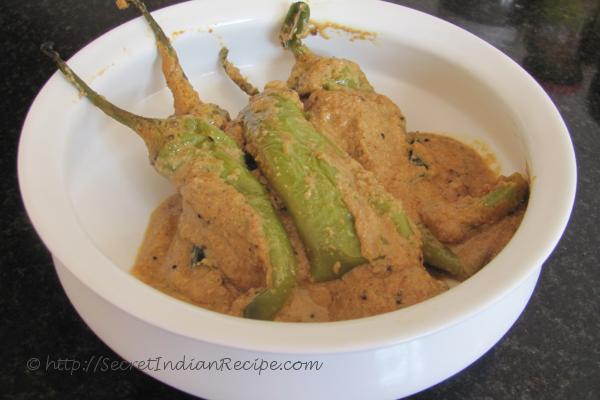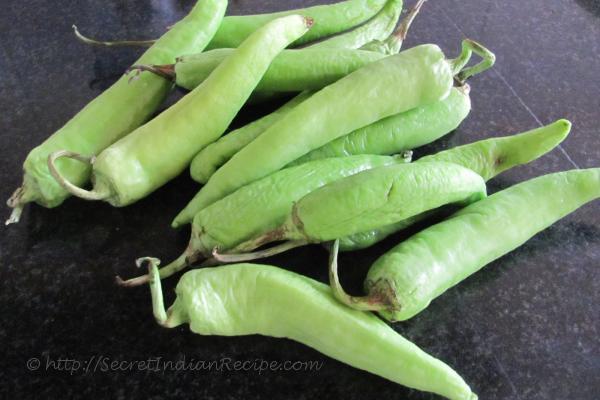 Ingredients:
Green chilies- 6
Groundnut- 1/4 cup
Coconut- 1/4 cup
Sesame seeds- 1 tbsp
Onion seeds- 1/4 tsp
Ginger-garlic paste- 2 tsp
Onion- 2
Tamarind extract- 1 tbsp
Coriander powder- 1 tbsp
Turmeric powder- 1/2 tsp
Chili powder- 1 tsp
Salt- to taste
Oil- 2 tbsp
Cumin seeds-1/4 tsp
Mustard seeds- a pinch
Directions:
Dry roast the groundnuts, coconut, sesame seeds along with chopped onions and grind to a fine paste.
The chilies mentioned in this recipe are ones used for making fritters and hence aren't pungent. Remove the crowns from the chilies if you don't like them and make incisions in the chilies so the gravy goes in.
In a pan heat some oil and add the cumin and mustard seeds. Let them splutter and then saute the ginger-garlic paste. Once it browns add the ground paste. Saute till the paste smells cooked or the raw smell goes away. Now add the chili, turmeric, coriander powder and salt. Let the gravy simmer for 10 minutes.
Add the chilies. You can shallow fry them for a few minutes before adding them to the gravy though I omitted this step.
Let the chilies cook in the gravy for 10 minutes before adding the tamarind extract. Let the gravy simmer for 5 minutes after this step and take the curry off the flame.