Mirchi Garam Masala
" After a long break i am posting few recipes of Maharashtrian Dry Masale.
I use various types of dry masale while cooking because when it comes to UDARABHARANAM" my family always luv the food which will taste different than another rather than typical taste ( The food which we make as per our tradition)
My first masala would be Mirchi Garam Masala.
This masala can be used in various Veg and Non- Veg dishes. You can also use this masala for fish fry.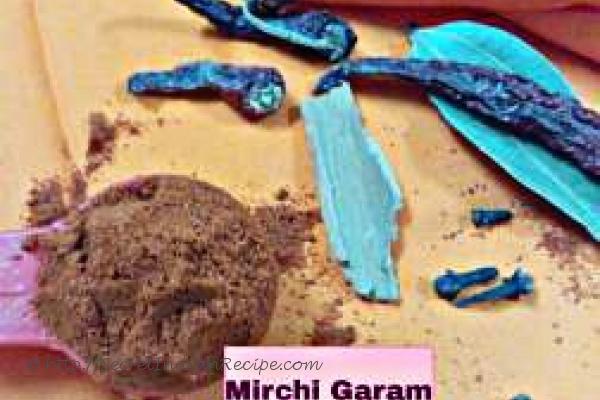 Ingredients:
BEDGI MIRCHI ( CHILI) 1 KG
GHATI / PANDI MIRCHI 500 GMS
KAHMIRI MIRCHI 500 GMS
SANKESHWARI MIRCHI 100 GMS
CORIANDER SEEDS 400 GMS
DRY TURMERIC ROOT 200GMS
FENNEL SEEDS 150 GMS
POPPY SEEDS 150 GMS
BLACK PEPPERCORNS 200 GMS
CLOVES 50 GMS
CINAMON 50 GMS
BALCK CARDMOM 30 GMS
GREEN CARDOMOM 20 GMS
STAR ANISE 20 GMS
BAY LEAF 50 GMS
LICHEN 20 GMS
MACE 20 GMS
MAYPATRI 10 GMS
NUTMEG 3 PCS
BLACK CUMIN SEEDS ( SHAHAJEERA) 30 GMS
NAKESHWAR 20 GMS
SICHUAN PEPPER ( TIRFAL) 10 GMS
MUSTERED SEEDS 150 GMS
CUMIN SEEDS 25 GMS
FENUGREEK 25 GMS
WHOLE BLACK ASAFOEDITA
OIL 50 MGS
Directions:
Sun Dry all Spices including Chilies for 3 to 5 days. Discard the steams of chilies. Remove unwanted things from spices.
Heat little oil in the pan & roast each ingredient separately on low flame. Continue to roast till it leaves nice aroma.
Let it cool for some time and grind the mixer to a powder. Cool and store in airtight containers at dry and dark place. Put 2-3 pcs of Whole Asafoedita in the container for long lasting aroma of Masala.
Because of huge quantity it was not possible to roast the chilies at home; so i have given to roast the chilies to private Masalawala and also grinded the masala through them.
If you want to make it in a small quantity you can grind at home in the mixer.