Mirchi Ke Tipore (instant Green Chili Pickle)
Basically, in our daily routine, we all love to have pickles and chutneys with our meals as they give the main course, the required taste kick. Mirchi Ke Tipore is an authentic Rajasthani side dish and is an essential part of its age-old traditional platter. Its a mixture of fresh flavors, which can stand tall against any vegetable preparation. This recipe is an absolutely easy way of spicing up your routine dishes.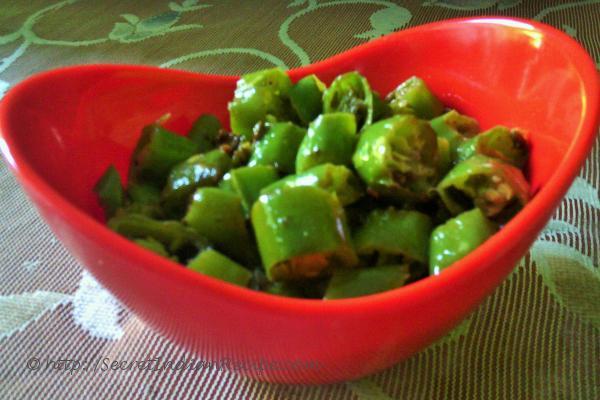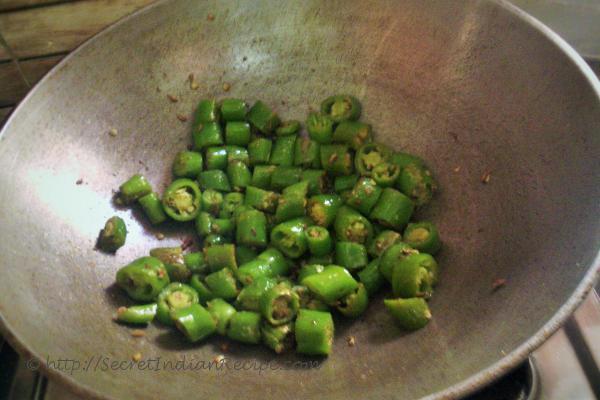 Ingredients:
Green Chilies - 10 to 12 (thickly chopped)
Oil - 1 tbsp
Fennel seeds (Saunf) - 1 tsp
Fenugreek seeds (Methi) - 1/2 tsp
Asafoetida (Hing) - 1 pinch
Coriander powder - 3/4 tsp
Dry Mango Powder - 1/2 tsp
Salt - as per taste
Directions:
Heat oil in a deep pan or kadhai.
Add fennel seeds and fenugreek seeds.
As it splutters, add a pinch of hing.
Put the green chilies into the kadhai and cook on low flame for 2 minutes.
Then add the coriander powder, dry mango powder and salt to it.
Cover the kadhai with a lid and allow it to cook on low flame for 2 more minutes and remove from flame.
Footnotes:
Mirchi Ke Tipore can be stored easily for over 7 days in a refrigerator. It can be well complemented with hot rotis and paranthas.