Mishti Aloor Malpua
Mishti aloor malpua is very famous sweet dish in Bengal . It is almost like making pan cakes only deep fried . #diwalirecipe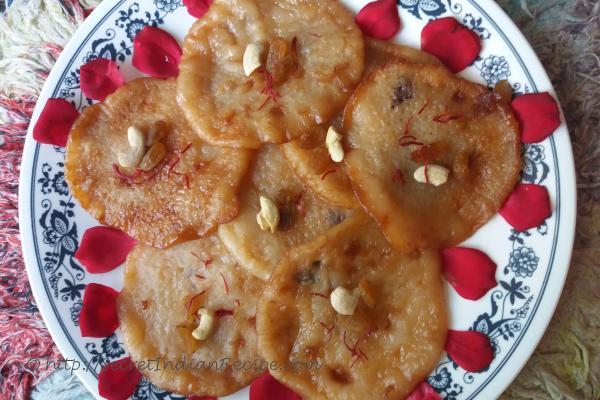 Ingredients:
Maida - 1 cup
Sweet potato - 200 gm ( boiled)
Semolina - 1 cup
Sugar - 1 cup
Mouri (fennel seeds) - 1 tablespoon
Milk - 1 cup
Coconut milk - 1/2 cup
Grated coconut - 1 cup
Khoya Kheer / mawa grated- 1 cup
White oil to deep fry
For Saffron sugar syrup :::::
Sugar - 1 cup
Saffron - 8 - 10 strands
Water - 1/2 cup
Cardamom pods - 2 -3
Directions:
For Saffron sugar syrup :: Take a saucepan and add all the syrup ingredients under the heading of syrup and bring 5 minutes off the oven and let the syrup cool to the room temperature .
Peeled of the skin to boiled potatoes and mashed them very well .
Mix all the dry ingredients Maida , suji , khoya Kheer, Sugar , salt , mouri and grated coconut together in a bowl.
Now add mashed potatoes, Coconut milk to make a smooth batter not to thick and not to thin like pancakes batter .
Keep the mixture into the room temperature for about 15 minutes. Then take a flat non stick pan and heat oil , pour one big spoon at a time and fry both sides till golden brown.
Now soak each malpua into the sugar syrup at a time for 1 - 2 minutes and take it out from the syrup and place on a plate .
Now ready to serve ........