Misti Alur Pantua( Sweet Potato Gulab Jamun)
Misti aloor pantua is one of my favorite dish. It is a gulab jamun type dish made out of boiled and mashed sweet potato.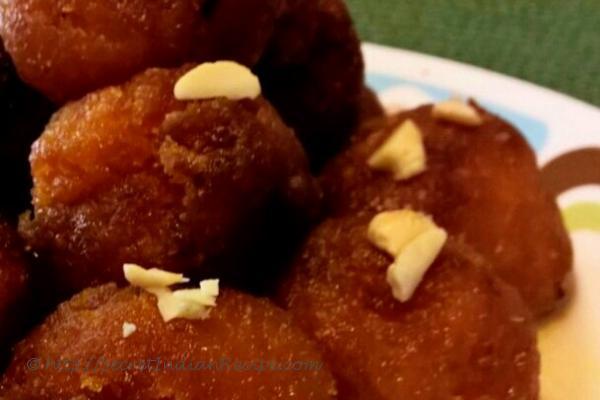 Ingredients:
1 big sweet potato(boiled and mashed)
1 tbsp all purpose flour
1 tbsp semolina(suji)
2 tbsp powdered sugar
2 cups sugar
2 tbsp milk powder
1 tbsp butter
1 tbsp whole milk
1 tsp cardamom powder
1 tsp kewra water
Vegetable oil for frying
Directions:
In a small pan add whole milk and butter,cook until come to a boiling point. In a bowl take 2 tbsp milk powder and 1 tbsp of powdered sugar and warm whole milk mixture to make a soft dough, stirring with a spoon. It is a quick process of making mawa. When it is warm make very small balls out of it. If it is cool it will be hard.
In another bowl add mashed sweet potato, semolina, all purpose flour and 1 tbsp of sugar, mix it very well. Keep aside for 10 minutes.
In a big pan add 2 cups of sugar and 2 cups of water. Boil until sugar dissolves. Add cardamom powder and kewra water. Then switch of the flame and keep it on gas stove to keep sugar syrup warm.
In a deep frying pan heat vegetable oil.
From mixture of mashed potato make small balls then press with your hands on the middle of the ball to make a cavity. Put one mawa ball on it. Then cover it up and make a ball again.
Deep fry potato balls in heated oil, until light brown. Drain it in a paper towel then dip it in sugar syrup.
Dip it in sugar syrup for 3 - 4 hours then serve. Sweet and delicious Pantua( potato sweets) is ready to serve.