Mitta Samosa (sweet Samaosa)
So, this is a recent favourite. I love the idea of a warm desert especially in the monsoon and this sure does hit the spot! I pair this with srikhand just for a little interest and it is yummy. I use store bought samosa pattis, you can make your own samosa dough if you like as well. It's just as good :)
I hope you try this dish and like it. Enjoy!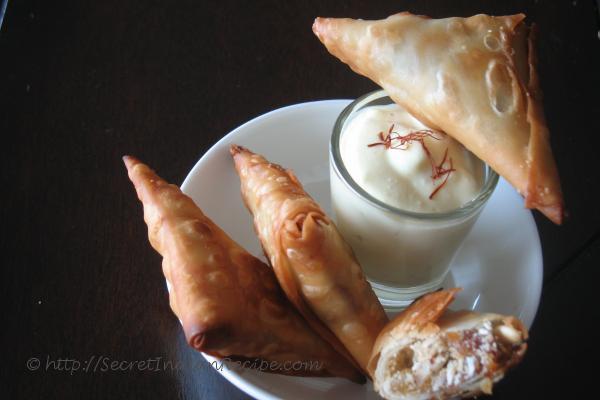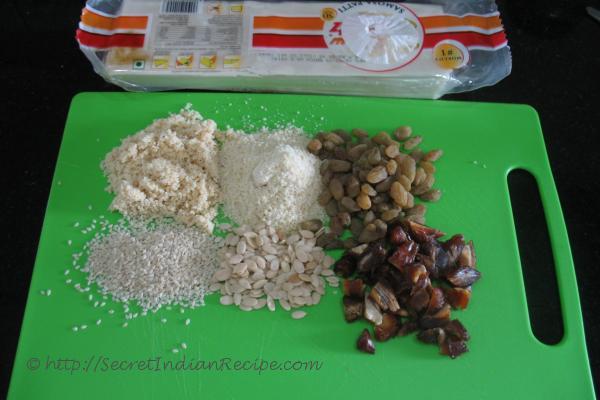 Ingredients:
1/2 packet of ready-made Samosa Pattis
2 tbsp Poppy seeds
2 tbsp Desicated Coconut
2 tbsp Watermelon seeds
2 tbsp Golden Rasins
2 tbsp chopped Dates
2 tbsp Sesame seeds
Oil for deep frying
Directions:
Heat the ghee in a pan and fry all the ingredients except the sugar.
Remove it from the pan and let it cool in a plate. Sprinkle the sugar on top.
Follow the instructions on the samosa skin packet to make a pocket for the samosa and fill with 1 tbsp of the filling.
Seal by wetting the end with a little water.
Deep fry till golden brown.
Serve warm with Srikhand on the side. Enjoy!
Footnotes:
If you need additional instructions for making the samosa, take the patti and place it on the counter horizontally. At one end fold the corner to meet the other side so you get a triangle. Fold this triangle down to the side closest to you. Now you have a pocket to fill your mixture. Fill and repeat the same steps to close.