Mix Vegetable Masala Kadhi (spicy Mix Vegetable Curry)
Generally during evenings, the only thing I think about is what should I prepare for the dinner!! Moreover, if I have curd and vegetables, which needs to be made soon, I find myself in a dilemma. Since I have this habit of experimenting with whatever I have, I tried to make Kadhi while making use of the vegetables. Not only the Kadhi turned out to be a delicious one, but also the freshness of the vegetables augmented the nutrition quotient of the preparation. One can also have the Mix Vegetable Masala Kadhi as a soup or as a side dish to go with rotis, parathas and not to forget to mention, it tastes awesome with rice.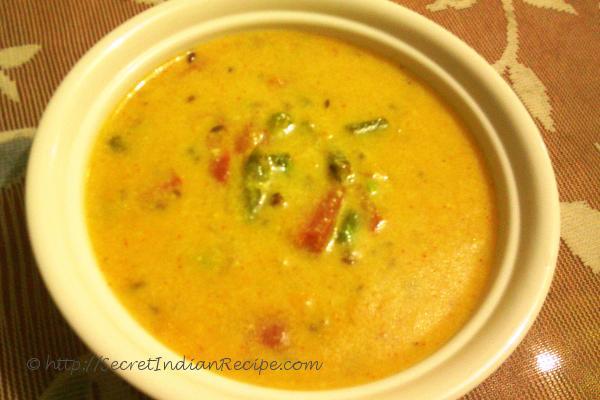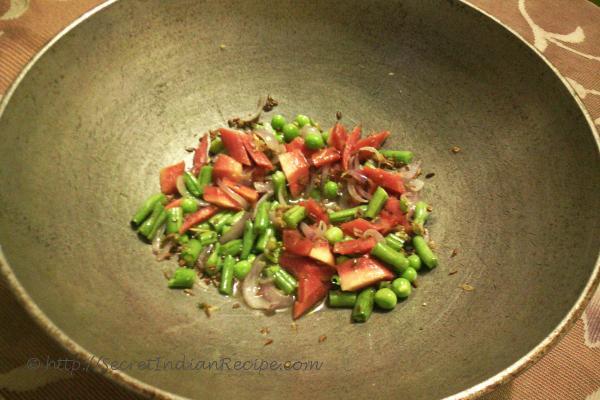 Ingredients:
For the Kadhi Mixture:-
Curd - 2 Cups
Gram Flour - 2 tbsp
Water - 2 cups
Turmeric Powder - 1/2 tsp
Red Chili Powder - 3/4 tsp
Salt to taste
For the tempering:-
Carrots - 1 (cut in lengths)
French Beans - 100gms (cut in lengths)
Green Peas - 1 Cup
Onion - 1 (thinly sliced)
Ginger-Garlic-Green Chili paste - 1 tbsp
Cumin Seeds - 1 tsp
Mustard Seeds - 1 tsp
Fenugreek Seeds - 1 tsp
Oil - 1 tbsp
Garam Masala - 1/2 tsp
Directions:
Whisk the curd and add gram flour with water and mix well.
Add salt, turmeric powder and red chili powder in the curd mixture and keep aside.
Heat oil in a kadhai and add fenugreek, cumin and mustard seeds.
Now add sliced onions and saute till it turns golden brown in colour.
Then add the ginger-garlic-green chili paste and vegetables and cover the kadhai with a lid.
Allow the vegetables to cook on low flame.
As soon as the vegetables become soft, add the curd mixture and mix well.
Bring the kadhi to boil and add garam masala.
Boil for another 5 minutes and serve with hot rotis, rice or parathas.