Mixed Dal Laddu
#diwali recipe
This recipe is an age old recipe , its very unique and nutritious too. We make this laddu during festivals.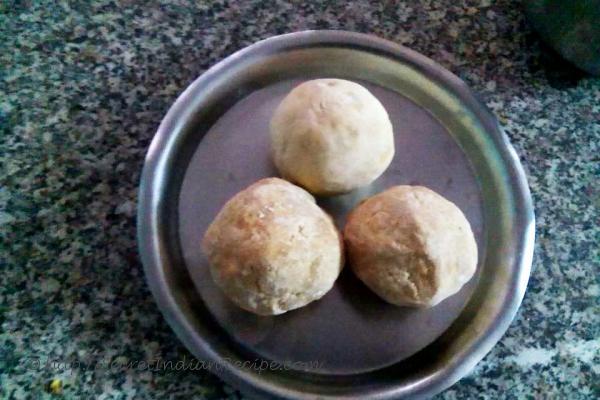 Ingredients:
Moong dal-200gms
chana dal-100 gms
Wheat(whole grain)- 100gms
Jaggery-500 gms
Elaichi(green)- 10-15
ghee- 1 cup
Kopra(dry coconut)- grated/cut into small pieces- 1 cup
Directions:
Dry roast chana dal , moong dal and wheat grain separately, Powder the jaggery and keep aside.
Take a kadai or shallow pan add 1 cup water and bring to a boil. then add jaggery and let it melt, bring the mixture to a boil until you get a sticky consistency.
Add elaichi powder, ghee and the mixed dal powder and mix well.
Remove the kadai from the flame and let it cool for few minutes. Then grease your hand with ghee and make laddus. Delicious and healthy laddus are ready to serve.
Footnotes:
note: Do not let the mixture cool for more than 5 minutes unless the mixture becomes hard and stony and will not be able shape it make laddus. these laddus are very delicious but a bit hard to bite , hence should be broken into pieces before serving. It is also called stone laddu in our regional language.