Mixed Veggies And Tofu Curry
This is a delicious and light curry made with tofu and mixed vegetabIes that taste good with rice or roti. I have added cinnamon, cloves and other spices for flavour. It's easy to make at home and a treat for anyone who loves tofu.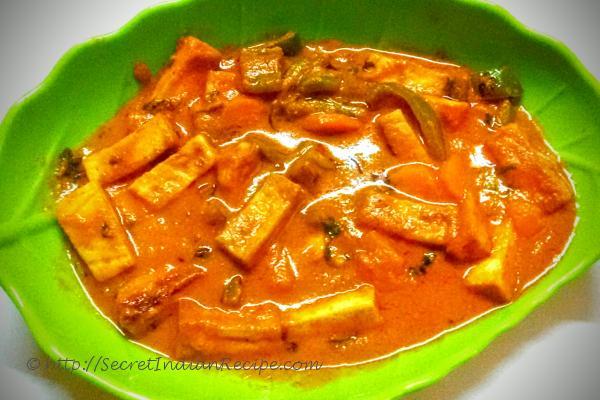 Ingredients:
Tofu - 200 grams
Cubed Carrots - 1/4 cup
Sliced Beans - 4
Sliced Capsicum - 1
Coriander leaves - few
Freshly Ground pepper - 1/4 tsp
Oil - 2 tbsp
For the Curry paste:
Big Tomatoes - 3
Dried Red chillies - 4
Jeera(cumin) - 1/4 tsp
Coriander seeds - 1/4 tsp
Garlic - 5
Ginger - small piece
Cinnamon - 3 small pieces
Cloves - 3
Coriander leaves - 1 tbsp
Dessicated Coconut powder  - 2 tbsp
Grind all the above ingredients  to a smooth paste.
Directions:
Wash and drain water from tofu by pressing softly. Cut them into small pieces. Warm some water in a bowl and add the tofu to it. Let it soak for a few minutes and drain the water from tofu by pressing softly.
Heat 1/2 tsp of oil in a wide frying pan over medium heat. Fry the tofu pieces gently golden brown, until 4 minutes each side. In the same pan stir fry the capsicum until crisp and tender.
Heat 2 tbsp of oil in a non stick pan and add the ground curry paste.
Fry the curry paste for 5 minutes and add the cubed carrots and beans. Stir it constantly and fry them till the raw smell of tomatoes, ginger and garlic disappears and oil floats on the top of the curry.
When the veggies are half done add tofu pieces and required salt. Cook in low flame until the curry thickens stirring frequently. If the curry appears thick add some water and cook for 1 - 2 minutes. Finally add the capsicum and sprinkle the freshly ground pepper over the curry and scatter coriander leaves on the top of the curry. Serve warm with veg fried rice, roti or steamed basmati rice.
Footnotes:
You can also prepare by blanching the carrots and beans and add it to the curry finally. Instead of dessicated coconut powder you can add 7 to 10 soaked cashewnuts.