Mochar Ghonto(banana Flower Cooked With Coconut And Ghee )
An authentic heirloom recipe from West Bengal. Mocha in bengali means banana flower. This is one of the popular vegetarian dishes of Bengal. Though the process of cleaning the flower is tiresome but the end result is very enticing and craving. My mom tells me when she was small , she along with her brother and sisters were given the task to clean out the matchstick like stem from the flower and my grandma then used to prepare this delicious mochar ghonto. I am going to share the recipe as done by my mom and by grandma.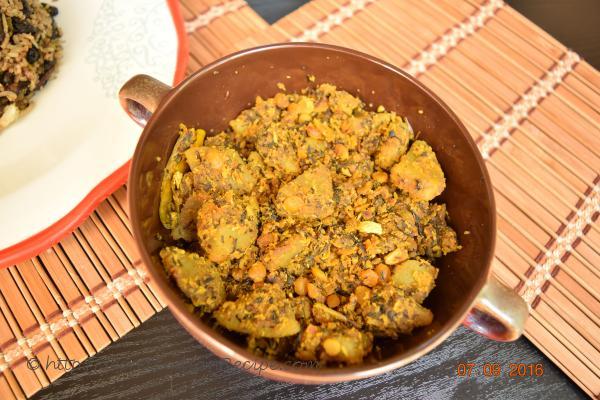 Ingredients:
1 Banana Blossom
1 tbsp Mustard oil + 1 tsp Mustard oil for rubbing on hands
1 Potato peeled cut into small cubes
1/4 cup boiled Chana dal ( Split Bengal gram)
1/4 cup grated Coconut
1/2 tsp Cumin seeds
1/2 knob Ginger finely chopped or grated
1 Green chillies chopped
1 Bay leaf
4 Cloves
3 Green cardamon pods peeled and crushed
1 inch Cinnamon stick
1 tsp Turmeric powder
1/2 tsp Red chilli powder
1/2 tsp Garam masala
1/2 tsp Sugar
Salt as per taste
1/2 tbsp Ghee for garnishing
Directions:
Wash the banana flower. Peel and remove the outer leafs to get the white flowers inside. Continue to remove the bracts and collect the flowers till you reach the white yellow flower heart.
This step is bit tiresome but its worth the effort. This is cleaning of the flowers. Apply some mustard oil on your hands before you start cleaning to prevent any itching later on. Take a flower, open and observe inside. You will see a feathery plastic like petal back and a matchstick like stem inside the flower. Pull and remove both as these are inedible and will make the flowers bitter if not removed. Discard the plastic like petal and matchstick like stem and keep the rest of the flower. Repeat this for all the flowers. This will take some time. It took 40 minutes for me.
After cleaning all the flowers, finely chop them and pressure cook them in just little water to immerse them and give 1 whistle. Drain the water properly and allow it cool.
Heat a pan and add the mustard oil . When the oil is hot, add the bay leaf,cloves, cardamom pods and cinnamon stick. When it will release the aroma, add cumin seeds and ginger paste, saute lightly.
Lower the flame, add chopped potatoes. Cover and cook for 10 minutes so that the potatoes are partially baked. This speeds up the cooking time.
Remove the lid. Add green chillies, boiled chana dal and banana blossom florets. Add turmeric powder, red chilli powder and salt. Cook on low flame with occasional stirring till the florets have turned dark brown. Splash little water in between to avoid sticking in your pan.
Add half of the grated coconut and cook for another 4-5 minutes. Add ghee and sprinkle the garam masala powder. Stir and mix. Remove from the heat and garnish with rest of the grated coconut.