Mochar Torkari (banana Flower Curry)
It is a vegetarian Bengali cuisine. Banana flower is highly nutritious. It has iron, calcium and phosphorus that make it a very beneficial food item for people having anemia or low hemoglobin count. Due to its high iron content it is recommended to girls and pregnant women. Here is a simple curry recipe.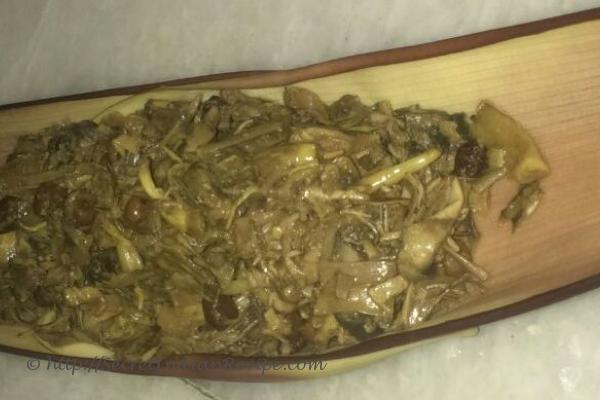 Ingredients:
Mocha (banana flower ) – 1 flower.
Bengal gram - 10 grams (soaked for four hours)
Tej patta (bay leaf) – 3 pieces
Onion – 2 pieces (chopped)
Ginger – Garlic paste – 2 tablespoon.
Garam masala – 1 tablespoon.
Turmeric powder – 1 tablespoon.
Red chilli powder – 1 tablespoon
Salt – I tablespoon.
Mustard oil – 6 tablespoon.
Directions:
First open the banana flower and take out the florets . Each floret has a thin transparent wing like feature and a strand, remove it and then chop the florets into small pieces. Add some water and boil the florets for 2-3 mintues. It will take out the bitter taste. Drain the water and keep it aside.
Heat 2 tablespoon of oil in a karahi and sauté the boiled florets until they turn light brown. Take them out and keep aside.
Add the rest of oil and fry onion till they turn brown. Add the bengalgram and sauté for a mintues. Add ginger -garlic paste, turmeric paste and red chilli paste and fry till the masala leaves the oil.
Add the fried florets, salt, garam masala and ½ cup of water. let it simmer and cook on low heat till the florets and Bengal gram become tender. Serve hot with rice.