Mochha Kofta (banana Flower Dumplings In Spicy Gravy)
Mocha kofta is a Bengali side dish recipe. People from Bengal are very health conscious and they try to include health benefitting fruits and vegetables in their daily diet. Mocha or banana flower has the highest content of iron and thus it is recommended to children and women specially. Mocha is cooked in a variety of ways in Bengal like mocha cutlet, mocha with Bengal gram, mocha with coconut and so on. I am sharing a recipe wherein mocha dumplings are cooked in spicy gravy.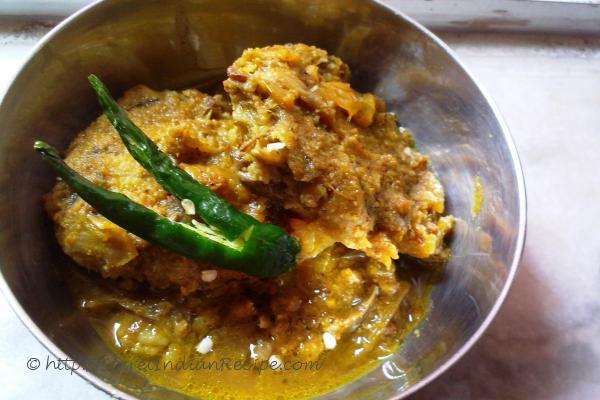 Ingredients:
(For Mocha kofta)
Mocha (Banana flower) – 1 flower
Ginger garlic paste – 1 tablespoon
Green chilli – 2 pieces (finely chopped)
Besan -5-6 tablespoon
Turmeric powder –1/4 tablespoon
Garam masala – ¼ tablespoon
Salt – ¼ tablespoon
Oil – 7-8 tablespoon
(For curry)
Onion – 2 chopped.
Ginger- garlic paste – 1 tablespoon
Red chilli powder – ¼ tablespoon
Turmeric powder – a pinch
Garam Masala – ¼ tablespoon
Salt – as per your taste.
Oil- 2 tablespoon
Directions:
First open the banana flower. The outer layers are dark red in color which protects the inner soft light yellow tender leaves. Take out these tender leaves and chop into fine pieces. It will be sticky so you can apply a little mustard oil on your palms before cutting it. Boil the chopped mocha in two cups of water. Once it is cooled squeeze the excess water and keep it aside
Now take a large bowl and add boiled mocha, besan, ginger- garlic paste, chopped green chilli, salt and garam masala and mix all together. Make small rounded mocha tikkis / bora out of this mixture and keep on a plate.
Heat oil in a pan and carefully fry the mocha tikkis/ kofta till they turn light brown.
Once all the koftas have been fried, put the chopped onion in the remaining oil. Fry till it turns light brown.
Add ginger garlic paste, turmeric powder, red chilli powder, garam masala and salt and fry till the masala starts releasing the oil.
Add 2 cups of warm water and let it boil for a minute. Add fried tikkis and cook on medium heat for 2 mintues.
Mocha kofta is ready, serve it with steamed rice or paratha.