Mohan Mithai (gramflour Sweetcale)
Mohan Mithai is a sweetdish recipe made out of besan. It can be easily made at home and doesnot require any preparation as the ingredients are mostly available at home.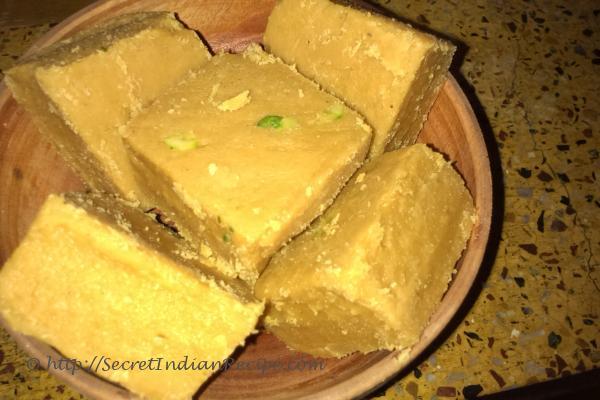 Ingredients:
Besan (gramflour) 150 grams (5.5 ounce)
Ghee 120 grams
Cardamom powder ½ tablespoon
Sugar 150 grams
Water 100 mililitre
Milk 1 cup
Nuts chopped almonds and cashew
Directions:
Take besan in a bowl and add 50 grams of heated ghee and mix well. Then heat the remaining ghee in a karahi and add the besan and fry it till it become light brown. The besan should be fried on the lowest possible flame. Once done take it out in a plate and let it cool.
For the 'chashni' boil the water and sugar together for about 10 mintues and then add milk. Let it boil till the mixture remains 1/3 of the original amount.
Then add cardamom powder and besan and mix well.
Pour it over a greased plate. Make the surface even by a spatula and garnish it with nuts. Once it is cooled cut it in square or triangle shape.