Monohora Sandesh (cottage Cheese Fudge)
Sandesh is a sweet treat that can be seen at any Indian celebration in a Bengali household. It is most popular Bengali sweet, made with channa(cottage cheese) & sugar. This cuisine comes from Bangladesh as well West Bengal. No Bengali meal is complete without Misti or sweet specially Sandesh. It is surprisingly easy to make. Being a milk based sweet doesn't last long, so consume as soon as possible. Sandesh should be served cold. You can use sugar free instead of sugar. Sandesh is really tasty and every one will enjoy. #diwalirecipe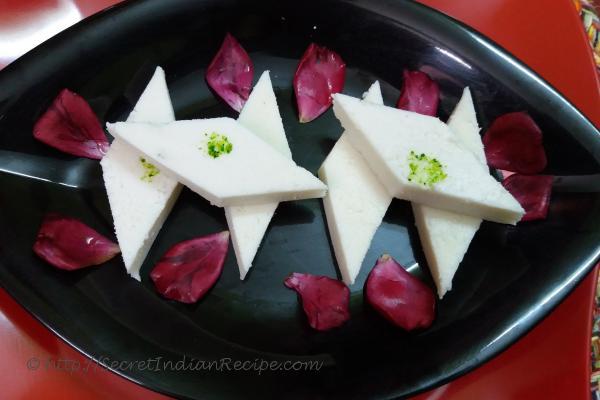 Ingredients:
Full Fat Milk - 4 cups
Sugar - 1 cup
Vinegar - 1/4 cup +2tbs water (mix in a cup)
Cardamom powder - 1/4 teaspoon.
Chopped pista for garnishing
Directions:
Take a plate or bowl and mash the channa with your palm. Mash the channa to make it smooth for at least 15 to 20 mins.
Add cardamom powder or crashed cardamom and knead the channa again for 5 mins. Now add sugar and gently mix with the mashed channa and knead for another 5 mins. Now take a clean non-stick pan and heat it on low medium heat.
When it is little hot add the channa mixture and stir with a spatulated 5 to 6 mins. Now take out the channa.
If you wait, it will harden and you will not be able to shape it. If you don't stir the channa mixture on hot non stick tawa its totally fine.
You can still make sandesh with the mixture. Garnish with chopped pista on the top of Sandesh. Enjoy the authentic Bengali sweet " SANDESH ".