Mooga Gaathi (sprouted Moong Curry)
This dish is a staple vegetarian dish originated in karwar.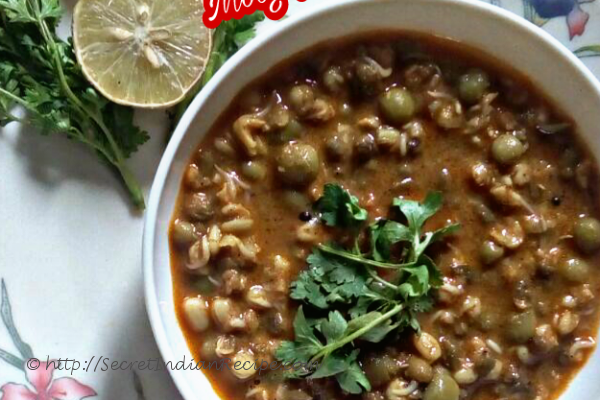 Ingredients:
2 cups sprouted moong
3/4 cup fresh coconut (shredded)
6 to 8 curry leaves
2 green chillies
1 tsp coriander seeds
1/4 tsp turmeric powder
1 tsp jaggery
3 pieces kokum or 2 tsp tamarind pulp
2 pinches asafetida
1 tsp mustard seeds
1 cup water
Salt to taste
3 tblsp oil
Directions:
Heat 2 tblsp oil in a pan. Add green chillies. Fry for a minute till they get slightly charred and brown. Drain them onto a paper towel. To the same oil add the black peppercorns and coriander seeds. Saute them till the coriander seeds turn brown in color. Drain these onto your paper towel too.
In a separate pan, roast shredded coconut for 2-3 minutes. Do not use oil as coconut will secrete its own oil.
In a mixer bowl, pour in the fried green chillies, black peppercorns and coriander seeds. Add the coconut and turmeric powder. Grind with little water to form a smooth paste. Keep aside.
In a large pot, add the sprouted moong let it boiled it till it's cook. Add the coconut paste from Step 3. Mix well. Add 1 cup of water or as per your desired consistency. Turn on the heat and let this mixture start boiling on medium heat. Adjust flavors to your liking. It should have all the 3 flavors: spice (red chili powder), sour (kokum/tamarind) and sweet (jaggery).
In a small pan, take your remaining 1 tblsp oil. Add the mustard seeds and let it splutter. Add the asafoetida and curry leaves. Pour this tadka into your boiling dal from Step 4. Mix and boil for 2 more mins. till the moong sprouts are completely cooked and all the flavors mix in well.