Mooli Ke Patton Ki Sabzi (radish Leaves Stir Fry)
We have been harvesting scarlet radish from our garden over the past two weeks. I am not a great fan of radish but I so happened to love gardening these days and these seeds turned out good and we had radishes in abundance. I was planning to discard the leaves when my maid told me the leaves could be cooked separately. It felt a bit bitter the first time but I rectified this error the second time by boiling the leaves and discarding the water. So I guess one should make a stir fry out of this leaf rather throw it away.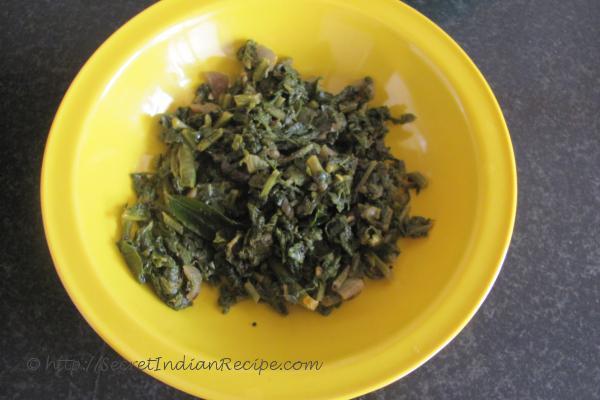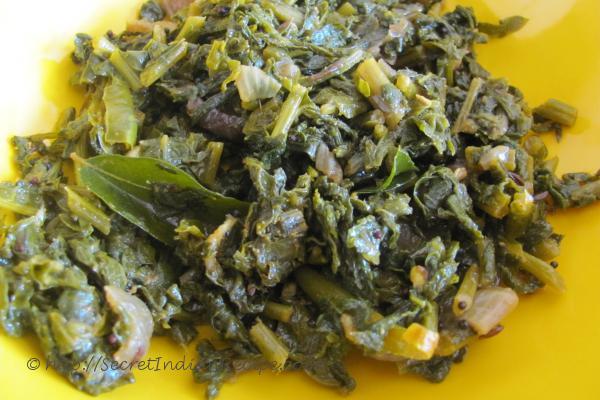 Ingredients:
Radish leaves- 3 bunches
Onions- 2
Green chilies- 2
Turmeric powder- 1/2 tsp
Chili powder- 1 tsp
Cumin seeds- 1/2 tsp
Salt- to taste
Oil- 2 tbsp
Amchur- 1/2 tsp
Garam Masala- a pinch
Directions:
Wash and chop the radish leaves finely. Boil them for 2 minutes with 1/4 cup water and a pinch of salt.
Drain off the water and strain the leaves in a colander.
Heat oil in a pan and add the cumin seeds. When the cumin browns, add chopped onions and green chilies.
Saute the onions till they are translucent and add chili, turmeric and garam masala powder.
Saute till the raw smell of the spice powders dissipate and then add the chopped radish leaves.
Saute the leaves for 3-4 minutes. Keep stirring constantly so that they do not stick to the bottom of the pan.
Add salt and amchur powder and give the leaves a final stir before taking it off the fire.
Serve with rice and some tangy gravy like kadhi, moru or rasam.
Footnotes:
You can add tomatoes to reduce the bitterness of these leaves; I did not add tomatoes for this recipe.
Adding 4 tbsp grated coconut could produce a different flavor.
You can omit the boiling of leaves if you can't take the bitterness.