Moong Daal Kachori
I remember a dear friend, who would return to hostel from semester break and her mom would send along, array of snacks! The Kachoris were mind numbingly delicious!! I somewhere loved the idea of sending care package for not just your child but 20 other hungry friends!
This recipe is simple, I do have couple of places to improve, I know! But in case, you have this mad urge to eat Kachoris in a rainy evening with a cup of Chai, and you don't have a recipe..! Then my recipe is your best bet! Make it for atleast 2-3 guys, as it will worth the hard work esp, when someone acknowledges it!
And I send my Regards to my fren's maa who kept sending us delish foods even without ever seeing our faces! It was generous of her, and inspiring too!
Please do try and do tell me, if you know something that I m missing out on! As always, thanks !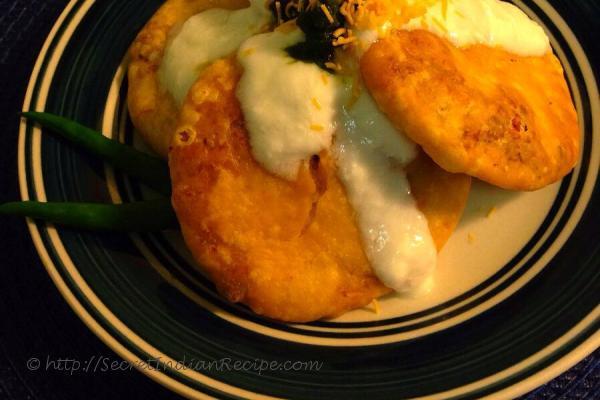 Ingredients:
Soaked Moong Daal- 1/2 cup- for +2hrs
Maida- 1 cup
Cold water from fridge- 1/4 cup
Oil- for Deep frying and for Moyan ( To be added to the dough)
Masala: cumin seeds-1/4 tsp, fennel seed- 1/2 tsp, corriander seed- 1/2 tsp,2cloves- half inch cinnamon, dry ginger powder, amchur pwdr, 4 dry red chilli,
Black salt, Normal Salt- 1-2 tsp or a.p.t
Directions:
Grind Soaked moong, in such a way you should have half paste and half seeds in the jar. Adding no water, in the mixer. Take out in a non stick pan and sauté for 2-3 mins on med low heat.
Meanwhile add all the masala in a pan and dry roast it well. Put in jar and dry grind them for 1 min. Add this coarse masala pwdr into the above mentioned sauté moong dal.switch off n let the stuffing cool- if you like, taste the mix and adjust amchur and salt or add some red chilli powder and Chat masala, if required- I added half a lemon juice for more effect- making sure my mix wasn't becoming too wet! Heat if required, constantly bursting any lumps with back of a spoon
Take maida, for every 1 cup add 1 tsp of salt. 3 tsp of Oil ( moyan) and a tiny pinch of Soda and baking powder eAch. Using very cold water sift into a smooth dough. Let it rest for30-45 mins
Divide in equal portion and stuff each ball with 1tsp of filling. Keep aside. You can press the stuffed ball using your palm, but do it gently and very little, as really flat Kachoris weren't puffing up well in oil for me:(
Once done, drop it into a deep frying pan with oil, which is just med heated, let it fry slowly for about 10-15 mins,turning each side till golden brown.
Serve with green chutney( corriander leaves, 1tso oil,1inch ginger,5green chilly all pasted),beaten curd, tamarind chutney,onion cubed, and thin Sev.
Footnotes:
Drop a small dough ball in oil, it should rise slowly, too fast- oil is too hot,doesn't rises-oil is cold! Frying will take up the most time. Don't be tempted to increase the heat as this will cause the surface of Kachoris to have the 'crater' kind of tiny bead all over- instead of the smooth flaky finish !