Moong Dal Ki Kachori (yellow Dal Stuffed Kachori)
Moong dal ki kachori is a vegetarian recipe. People usually make urad dal ki kachori but urad dal is a slightly difficult to digest so here is a recipe that is easy to digest for kids and old age people.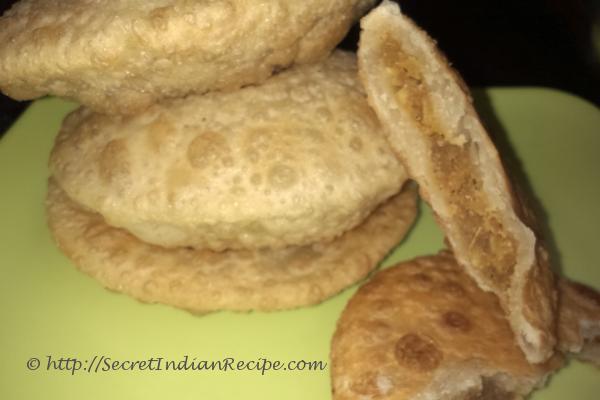 Ingredients:
Moong dal – 150 grams
Coriander powder – 1 tablespoon
Garam masala powder – 1 tablespoon
Red chilli powder – 1 tablespoon
Hing (asafetida) – 1 pinch.
Salt – 1 tablespoon
Sugar – ½ tablespoon
Refined oil – 100 ml.
(For the kachori )
Maida (refined flour) – 1 ans ½ cup
Refined oil – 2 tablespoon
Water
Directions:
Wash the moon dal and soak it in water for 15-20 mintues. Drain the excess water and leave it to dry for 10 mintues.
Then grind the moon dal into smooth paste. Heat 4 tablespoons of oil and pour the grounded moong dal. Saute for 5-6 mintues and then add the coriander powder, garam masala powder, red chilli powder and hing and continue frying till the dal leaves the sides of the karahi. Finely add the salt and sugar and fry for few more seconds. Put off the gas and let it cool.
In a bowl take the maida, refined oil and required amount of water to make dough.
Afterwards make small balls from the dough, fill the stuffing and then roll it in Kachori. Heat oil and fry the kachori . Serve hot with aloo ki sabzi or paneer sabzi.