Moong/mung Dal Chila (green Gram Pancake)
I had this recipe in my cousins' weddings. In Indian weddings, you can really indulge in elaborate food platters…..The food is layed twice as ' Nasta' or the tea time snack and the ' Khana' or the dinner. The 'Nasta' comprises of all the Indian chaats, Paani puri and snacks. In my cousins' wedding, I saw hot chilas being served to guests. The cook had a huge bowl containing the batter and he was quickly laying out hot chillas and then serving it with coriander and tamarind chutney. Since then I tried it as a breakfast recipe and found it really quick and tasty.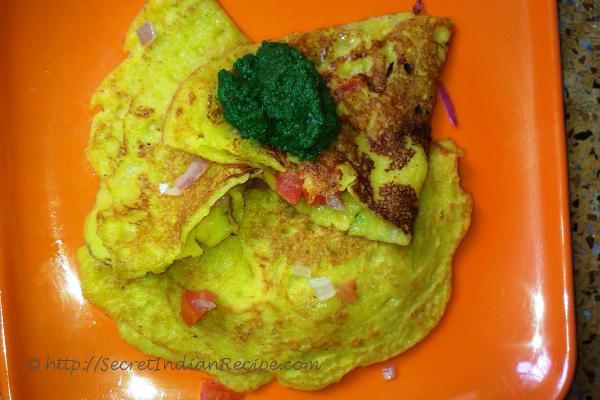 Ingredients:
Moong dal (Green Gram) – 250 grams (Soaked in water for an hour)
Green chillies – 4-5 pieces
Hing (Asafoetida) – ¼ teaspoon
Turmeric powder – 1 teaspoon
Onion – 1 (Finely chopped)
Tomato – 1 (Finely chopped)
Oil – 10 ml.
Salt - As per your taste.
Directions:
Wash the soaked moong dal thoroughly and drain the excess water.
Put moong dal, green chillies, salt, turmeric powder and hing in a grinder and grind into a smooth paste. You can add little water if required.
Pour the batter in a large container and check the seasoning by just taking a bit of batter on your forefinger and tasting it….. It is important because once you have made the chilas, you will not be able to adjust the taste.
Now switch on the gas and put a pan on the stove. Pour a tablespoon of oil and let it heat. Spread it all over the tava. Now roast a piece of loaf or a chappati over it and then remove it. Wipe the tava with a kitchen towel and then sprinkle some water……Be careful and just move away from the tava after sprinkling water. Wipe it again with the kitchen towel. This is my trick to get rounded chillas and after this my chillas do not break and come out easily.
Now again pour a tablespoon of oil and heat it. This time pour two big spoon of batter on tava and spread it evenly like 'dosa'. If you are not an expert in making dosa and chilla then start with small chilla by pouring just one big spoon of batter.
When one side is cooked, apply some oil on the surface of the chilla and then carefully flip it to the other side. While the other side it being cooked, just keep some chopped onions, green chillies, tomatoes and green coriander at the centre of chilla and the fold it to half. Keep it for a second and then take it out on a plate.
Follow the procedure to make more chillas. Serve your chilla hot with green coriander chutney.
Footnotes:
Besides Onion and tomatoes, you can add chopped paneer, green chillies, Grated coconut and chopped coriander leaves to make it more tasty, healthy and filling.