Moori Maakha / Jhal Moori (puffed Rice Concoction)
Moori maakha is a healthy snack recipe which is usually served with tea in Bengal. It has moori as a main ingredient, that is source of carbohydrate and lots of vegetables which provide essential fibre , vitamins and minerals. And the best part is it just takes 10 mintues to prepare and does not involve any cooking.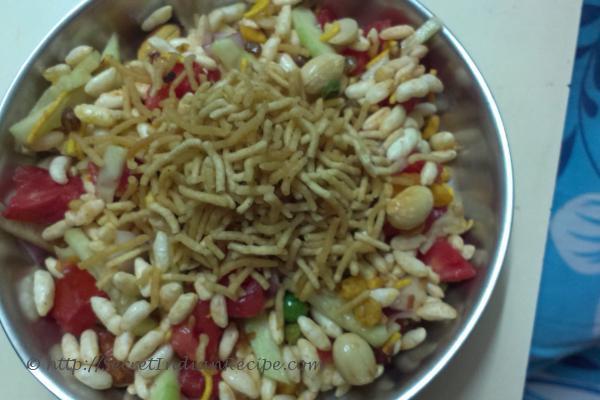 Ingredients:
Moori (puffed rice) – 150 grams
Onion -1 small size
Tomato – 1 small size
Green chilli – 1 piece
Cucumber – ½
Chanachur – ½ cup
Roasted peanuts – ½ cup
Salt – ¼ tablespoon
Mustard oil – 1 tablespoon.
Directions:
Chop all the vegetables in small size and keep aside.
Put the moori in a large bowl. Add the chopped vegetables, chanachur, roasted peanut, salt and mustard oil and mix well. Serve with tea