Mor Kuzhambo ( Lady Fingers In A Curd Gravy, Quite Like Punjabi Kadhi And Yet Different )
Having traveled all over India, I got the opportunity to taste various cuisines and then recreate them at home. One such was Mor Kuzhambo, tasted in Kodaikanal about 20yrs ago....and loved it as it reminded me of our Pakoda Kadhi and it has been soul food for me.
Those days there was no internet and no Goggle to get a ready recipe thus never did manage to make it. Now, with Google managed to find a simple and easy recipe and decided to take the plunge and a new dish was added to our home menu :)
MOR means buttermilk and KUZHAMBU is a kind of gravy made in South India that is generally had in the 1st course with rice or Sevai.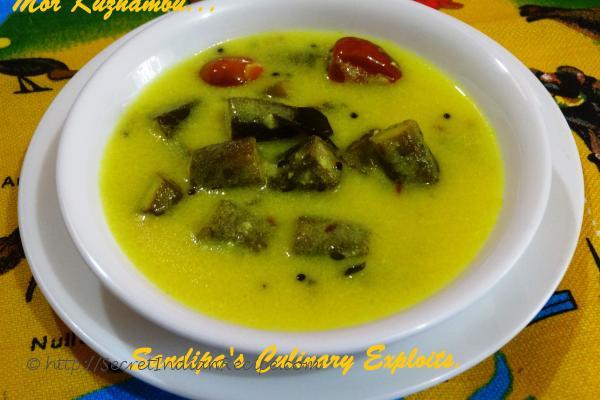 Ingredients:
100 gms Lady Fingers (cleaned, dried and cut into 1inch pieces)
1 Cup Curd
1/4 Tsp Turmeric powder
A pinch of Asafoetida
4 Whole Red chillies
2 Tsp Grated Coconut
1/4 Tsp Cumin seeds
1 or 2 Green Chillies slit
2 Tsp Rice Flour dissolved in a little warm water
1/2 Tsp Split Urad dal
1/2 Tsp Mustard seeds
Few Curry leaves
1/4 Tsp grated Ginger
Salt to Taste
2 Tsp Refined oil
Water as required
Directions:
Heat oil in a kadai, saute lady fingers for 2-3 mins till half-done.
Add mustard seeds, split urad dal, whole red chillies, grated ginger, cumin seeds and curry leaves and stir for a mintue.
Add water, dissolved rice flour, coconut, turmeric powder, asafoetida and salt and bring this to boil for 5-6 mintues.
Beat the curd or yoghurt and add this to the Kadai. Mix this well and turn off the flame in 15-20 secs. Serve hot with rice or sevai.