Mosaru Anna (curd Rice)
"Curd rice " much popular in the Indian states of Tamil Nadu, Karnataka, Andhra Pradesh and Kerala. In the state of Tamil Nadu it is also offered to the God in many Temples and later distributed as 'prasadam' to devotees. Curd rice are called in different names, in Karnataka we call it as Mosaru-anna. The nutrients present in curd are easily absorbed by our digestive system. It also helps in absorbing nutrients from other food items that we have consumed it also reduce cholesterol levels; it is good for teeth and bones and also boosts our immunity. This is a very simple and tasty dish, curd rice with pickle or Chatni is a perfect combination.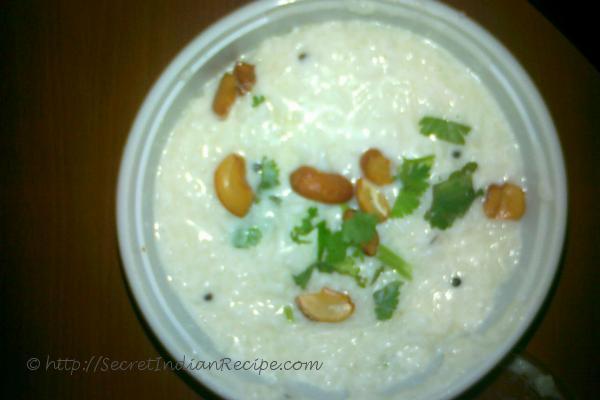 Ingredients:
1 Cup Rice
2 cups of plain yogurt (Curd)
2 Tbsp Oil
Finely chopped coriander leaves
1-2 green chilies
1 tsp. mustard seeds
1½ tsp. finely chopped ginger
½ tsp. salt
Cashew
Directions:
Wash the rice well and put in a pressure cooker with the water. Cook it well and once the rice is ready keep it aside.
Mix the rice with yogurt and add salt as per your taste
Take sauce pan add 2 tablespoonful of oil heat it on medium flame next add mustard seeds to the oil.
When the mustard seeds start popping add ginger, coriander and green chilies
Now stir the this mixture well for about 3-4 mins, take the mixture off from the gas and add this mixture to curd rice
Stir them well; garnish it with cashews and coriander leaves. Our simple and healthy curd rice is ready to serve
Footnotes:
The ingredients like carrot, cucumber,mango can also be added which will enhance its taste
Before adding curd, ensure the rice is cooled down.