Mughlai Vegetable Biryani (vegetable Biryani In Mughal Style)
Biryani is probably the most remarkable contribution of Mughal dynasty in India. Mughals were very fond of good food and their chefs used to mix and match various spices, nuts and artificial scent to please their ' Sultan' (King). Biryani was the staple food of the Mughals and it used to be cooked along with Mutton or chicken mostly and thus Biryani was termed as ' Royal Food' by common people. Besides, becoming politically strong, one of the prime motives of the Mughals was to spread the Muslim culture across the world. In India, they found that one way to convert Hindus to Muslims is to through changing their food habit. But, as most of the Hindu population was vegetarians, they started inventing vegetarian alternatives of their cuisine. Mughal vegetable Biryani was one of such recipe. Let's find out how to prepare this royal delicacy....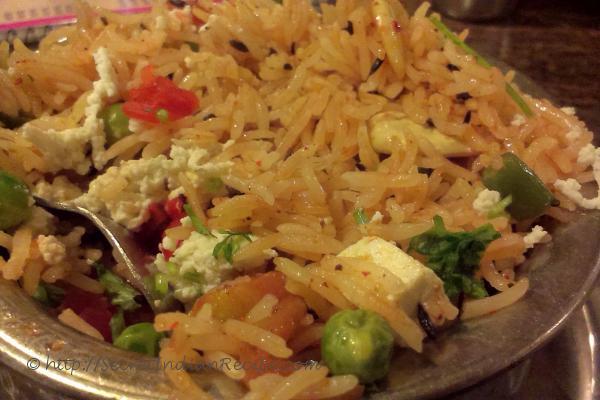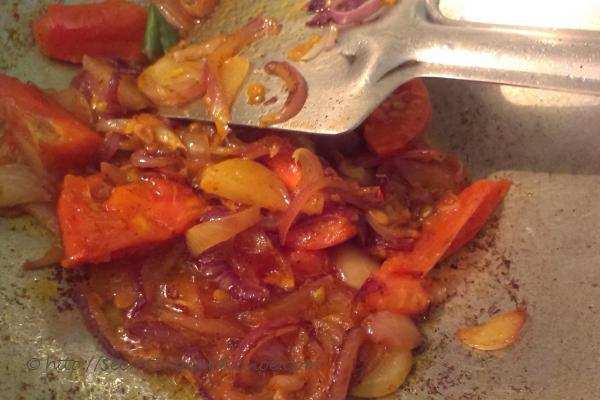 Ingredients:
Basmati Rice – 2 cups
Vegetables (Carrots, pea, capsicum, beans and cauliflower) - 1 cup (chopped in small sizes)
Onion – 1 medium sized (grated)
Ginger Garlic paste – 1 tablespoon
Cardamom – 1 piece
Clove – 1 piece
Cinnamon – 1 inch piece
Cashew -5-6 pieces
Poppy seeds -1/2 tablespoon
Raw coconut – 1 inch piece
Curd – 2-3 tablespoon
Cumin Powder – ½ tablespoon
Garam masala powder – ½ tablespoon
Red chilli powder – ½ tablespoon
Tomato – 1 medium sized (Chopped)
Onion – 1 small size (sliced finely)
Ghee – 4-5 tablespoon
Salt to taste
Refined oil – 4-5 tablespoon
Fresh mint leaves – 2 tablespoon chopped
Saffron – soaked in milk – few strands
Paneer (Cottage cheese) – 50 grams (cubed)
Biryani essence – 2 drops
Directions:
Wash the Basmati rice and sok it in water for an hour. After 1 hour drain the excess water and keep it aside.
Take a large pan and pour about 3 cups of water with 1 tablespoon of salt. Bring it to boil and add the rice. Cook on medium flame till the rice is half done. Drain the excess water and pour the rice over a strainer to prevent further cooking.
In the meantime soak cashew, poppy seeds and coconut in 5-6 tablespoon of water and after 10 mintues grind them into a smooth paste.
Heat oil in a pan and add the finely sliced onions. Fry till they turn golden brown. Take them out and keep separately.
In the remaining oil add grated onion. Saute it for a minute and then add the crushed cardamom, clove and cinnamon stick. Continue to fry for another one minute on medium flame.
Then add the ginger garlic and chopped tomatoes and cook for a minute. Now add cumin powder, red chilli powder and garam masala . Saute till the masala starts leaving oil from sides.
Follow it by adding grounded paste of cashew, poppy seeds and coconut. Saute for another two mintues and then switch off the flame. Add the curd and mix.
Switch on the gas again and put the pan back on stove. This is to prevent the curd from curdling.
Now add the chopped vegetables and required salt (We added some salt while boiling the rice) and sauté them in the masala for about next two mintues. Remove the pan from gas and put a large pan on the gas for layering the Biryani.
First grease the pan with 1 tablespoon of ghee and then pour half of the rice. Follow a layer of vegetables with masala, fried brown onions, some mint leaves, half of paneer cubes, 2 tablespoon of ghee and half of saffron. Pour the remaining rice and again layer the vegetables with masala, browned onions, mint leaves, saffron, cubed Paneer, Biryani essence and ghee.
Cover the pan with a lid and cook in on low flame for 10- 15 mintues. Check if the rice and vegetables are done.
Serve hot with Raita and papad.