Multi-grain Oats Handvo
Handvo, as is, a very healthy recipe. But by adding a few more dals and oats I have upped the health quotient just a notch...!!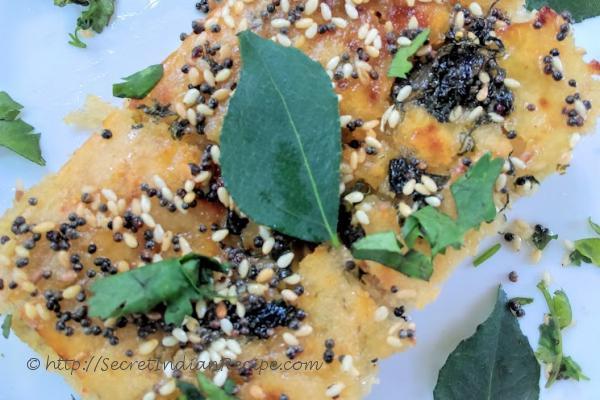 Ingredients:
1 cup rice ¼ cup yellow moong dal ¼ cup masoor dal ¼ cup chana dal ¼ urad dal ¼ cup tur dal ¼ cup instant oats ½ cup sour curd ½ teaspoon baking soda 2-3 cloves garlic, crushed ¼ cup fine rava Salt to taste ½ cup Assorted vegetables like grated lauki, boi
Water, as needed.
Directions:
Wash and soak the rice and all dals for 5 hours Grind the rice bit coarsely using as little water as possible.
Grind all the dals and the oats very finely using very little water. Mix them up together.
Add the sour curd and whisk very well. Add water to make idli-like batter consistency.
Store in a warm place overnight to ferment. Next morning, the batter will be nicely fermented.
Add the vegetables and whisk gently. Heat up one tablespoon of oil and temper the mustard seeds, garlic, sesame seeds, curry leaves. Add the red chilli powder.
Quickly add half the quantity to the batter and keep the rest to pour on top of the ready handvo later on. Grease a cake tin with little oil.
Ready the steamer. Pour the batter in the tin and steam for about 15-20 minutes.
Do check with a toothpick to see if it is done or not. The toothpick should come out clean.
Once done, let cool for a bit and pour the remaining tempering. Garnish with green coriander leaves ( Finely chopped )
Serve with green spicy mint chutney. Vegetables can be added as per one's choice. Cut into pieces and Shallow fry them , if you want a crunchy top.