Mulyachi Bhaji / Mooli Aur Moong Dal Ki Sabzi (white Raddish Cooked With Split Yellow Gram)
Mooli with greens are extensively used in Rajasthani cooking, but in Maharashtra mooli and it's greens are cooked with moong dal till tender. This is a typical Maharashtrian dish and tastes great with hot phulkas.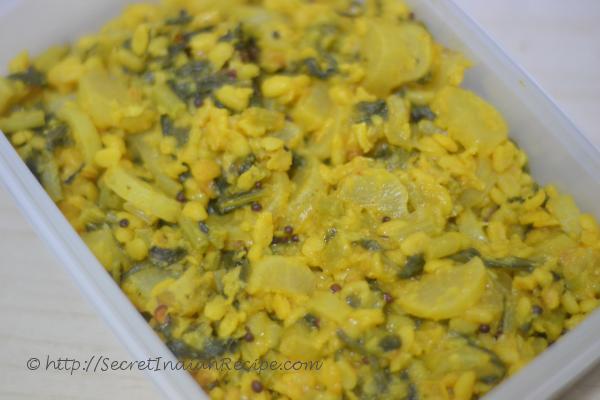 Ingredients:
Mooli (raddish): 3
Raddish Greens: 2 Cups finely chopped
Moong dal: 2 Cups
chili powder: 1 tsp
Mustard seeds: 1 tsp
Jeera: 1 tsp
Hing: 2 pinches
Turmeric powder: 1/2 tsp
Sugar: 1/4th Tsp
Oil: 2 Tbsp
Ajwain (Carom Seeds): 2 pinches
Directions:
Soak moong dal in water and keep aside for an hour
Heat oil in a pan/ kadhai. When hot add mustard and jeera seeds and let them splutter
Add red chili powder, turmeric, hing and ajwain give it a quick mix
Add soaked moong dal and saute for 2 mins
Add chopped mooli leaves, salt to taste and mix well, the leaves will ooze out a lot of water, let the leaves and dal cook in the same juices
After two minutes add chopped mooli. Cover and let the sabzi cook for 5 to 10 minutes on low heat
Open the lid check if the dal and mooli is done, add sugar and mix well
The sabzi is ready to serve.
Mulyachi bhaji tastes best with hot phulkas