Mumbai Dahi Vada (savoury Dumplings In Yogurt)
Dahi vada is a well known Indian snack. In fact even if you are travelling outside India and you enter any Indian restaurant, you will definitely find dahi vadas on the menu. The most liked recipe is the way it is cooked in Mumbai. Here is the secret of making Mumbai special dahi vadas at home.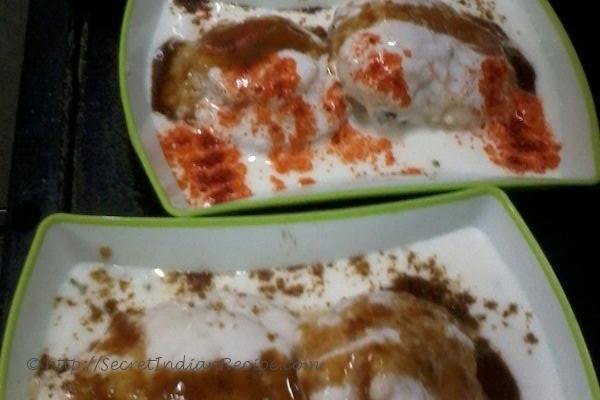 Ingredients:
(For vada)
Urad dal (white lentil) - 1 cup (soaked in water for four hours)
Ginger - 1/2 inch piece
Cumin seeds - 1 tablespoon
Green chilli - 3-4 pieces
Salt - 1/2 tablespoon
Hing (Asafoetida) - a pinch
Refined oil - for frying vadas
(For dahi base)
Dahi (curd) - 2 cups
Roasted cumin powder - 1/2 tablespoon
Roasted red chilli powder - 1/2 tablespoon
Tamarind chutney - 3-4 tablespoon
Tomato sauce - 2-3 tablespoon
Rock salt - 1/4 tablespoon
Sugar- 1 teaspoon
Directions:
To make vadas, first wash the urad dal thoroughly and drain the excess water.
In a grinder put urad dal, cumin seeds, green chilli, ginger, hing and salt and grind into a thick paste. You can add 3-4 tablespoon of water if needed.
Heat oil in a pan for deep frying. When hot, slowly fry spoonful of batter to form vadas. Fry till they turn golden brown. When done, remove from heat and dip them in warm water. Keep aside.
Beat dahi, pinch of salt and 1 tsp sugar and keep it in refrigerator
Before serving, squeeze and remove the excess water from the vadas and place in the serving bowl.
Pour enough dahi to cover the vadas.
Sprinkle roasted cumin powder, red chilli powder and rock salt.
Finally pour some tamarind sauce and tomato sauce and serve.
Footnotes:
Tomato ketchup is optional