Mumbai Masala Dosa (mumbai Street Food Style Pancakes With Potato Filling)
Masala Dosa is one of my favorite snacks. I have had plenty masala dosas, but the ones from Mumbai's streets are amazing. This is my take on Mumbai style masala dosa. This is a quick and easy breakfast recipe...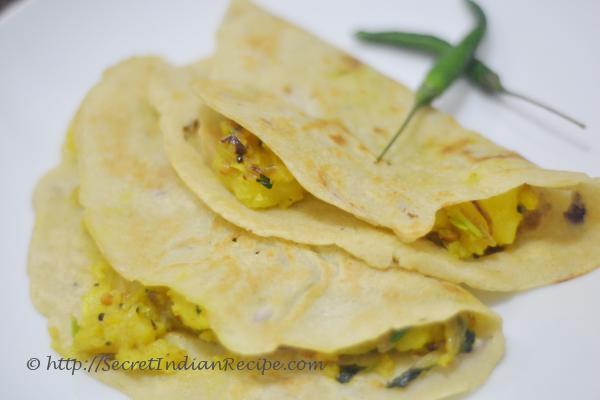 Preparation Time:
15 mintues + (overnight soaking)
Ingredients:
FOR BATTER:
1 Cup Rice (Soaked overnight or for minimum 2 hrs)
1/2 Cup Urad Dal (Soaked overnight or for minimum 2 hrs)
1/2 Tsp salt
1/2 Tsp Red chili powder
1/4 tsp sugar
FOR FILLING:
3 Boiled Potatoes
2 finely sliced onions
1 to 2 finely chopped green chilies
1 tsp urad dal
1/2 Tsp Mustard seeds (Rai)
4 to 5 Curry leaves
2 Tbsp Coriander chopped
2 Tbsp Oil + Oil for cooking
1/2 Tsp Turmeric powder (Haldi)
1/2 Tsp sugar
Directions:
For the dosa batter, Blend all the ingredients mentioned under "for batter" with a little water (about half to one cup). The batter should be smooth and similar to pancake consistency. Set aside
For the filling, heat oil in a pan, add mustard seeds, urad dal when they start spluttering add curry leaves and chilies.
Saute for a min, add turmeric, onions and salt saute till onions turns light brown. Roughly mash the potatoes and add them to the pan.
Mix well and cook for 3 to 4 minutes, add coriander, sugar and mix well again
Remove from heat, squeeze a little lemon juice (Just about 1/2 a tsp) and set aside
To make the dosa, take a ladle full of batter pour it in the center of a non stick pan and spread it in a circular motion. Try and make the dosa as thin as possible
Even if the dosa comes out thick that is fine. Now drizzle oil and cook the dosa on both sides till light brown.
Place a spoon full of potato masala in the center and lightly spread. Let the dosa cook for 1 minute more.
Fold from one end and serve hot.
Footnotes:
Serve the masala dosa with coconut chutney or sambar. I like love it even with simple tomato ketchup at home.