Mumbai Masala Toast (mumbai Potato Stuffed Sandwich With Coriander Chutney)
This sandwich is a classic example of how the Western influence on local cuisines got assimilated and got reborn in new avatars. The typical aaloo bhaji and the hari chutney get a makeover by being stuffed in between 2 slices of bread layered with tomatoes and onion slices. This toast is cut up into four and served with some sev and chaat masala with some ketchup on the side if you need any. This lip smacking sandwich is a Westernised vada pav that is a staple to many hostelers in Mumbai.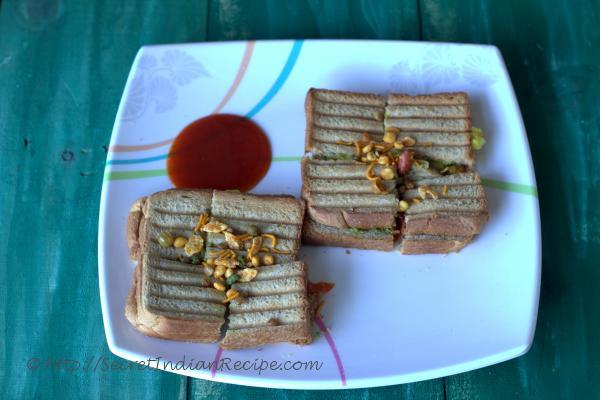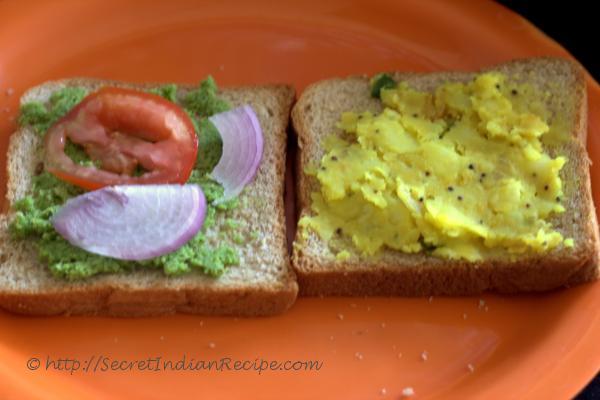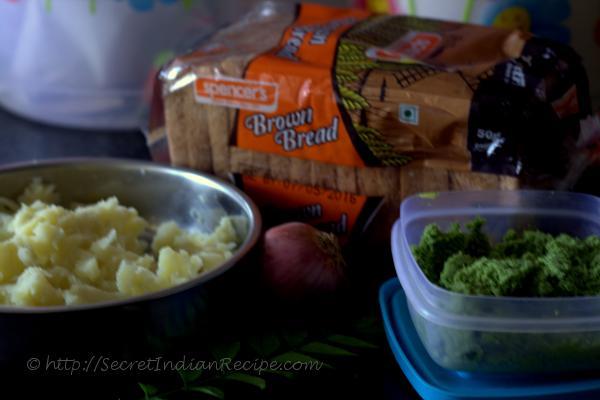 Ingredients:
Bread slices- 14
Tomato-2
Onion- 2
Potatoes- 500 g
Chopped onion- 1/4 cup
Green chilies- 2
Turmeric Powder- 1 tsp
Mustard seeds- 1/2 tsp
Coriander leaves chopped- 2 tsp
Salt- to taste
Oil- 2 tbsp
Mint leaves- 1/4 cup
Coriander leaves- 1/4 cup
Green chilies- 2
Lemon juice- 3 tsp
Salt- to taste
Butter- 1 tsp
Aloo bhujia- 3 tsp
Chaat masala- 1 tsp
Directions:
Make the green chutney by grinding the green chilies, mint and coriander leaves to a fine paste.
Add salt and lime juice to finely ground chutney after it is ground.
Prepare the potato filling by pressure cooking the washed potatoes in 3 cups of water up to 2 whistles.
Peel the potatoes after they are cooked and mash them coarsely.
Heat a wok and add the oil. Add mustard seeds and let them splutter.
Add the finely chopped curry leaves and chopped onions after the mustard splutters.
Saute till the onions brown and add the turmeric powder. Saute for 2-3 minutes and add the mashed potatoes.
Toss the mashed potatoes in the spices. Add salt and keep tossing the potatoes so that they get coated in the spices.
Cook the potatoes in the spices for 3-5 minutes and take it off the flame. Garnish with chopped coriander leaves.
To assemble the sandwich, slather some butter on the bread slices. On one slice smear the green chutney and place one slice of onion and tomato.
On the other slice of bread apply the potato filling and sandwich the slices together. Toast the bread in a sandwich toaster.
To serve slice the toast into four pieces and sprinkle some chaat masala and sev before serving. Serve with ketchup.