Mumbai Paneer Tawa Pulao (spicy Stir Fried Rice- Bombay Street Food Special)
Pulao is a well know dish across India. The Mumbai street food version of it is called the "Tawa Pulao"
Pulao is nothing but a few veggies and spices cooked together with rice, when it is cooked on a tawa (Flat pan) its called the Tawa Pulao. But the tawa is no ordinary tawa, it is the same tawa on which the street vendor makes pav bhaji. So the flavours of pav bhaji infuse the pulao making it more flavourful. Tawa Pulao is usually spicy and red in colour. I have tried to bring that taste from the streets of mumbai into my kitchen. The final dish turned out fantastic; I am sharing this winning recipe with you.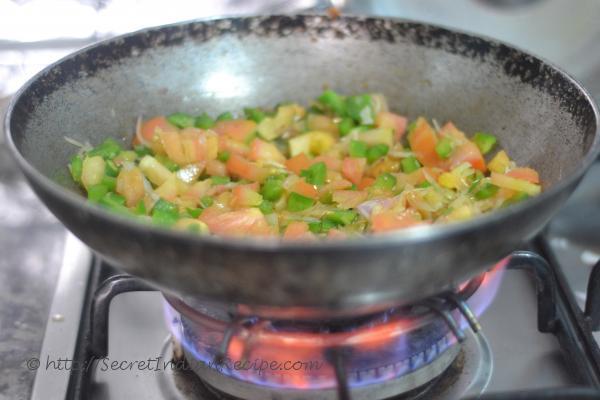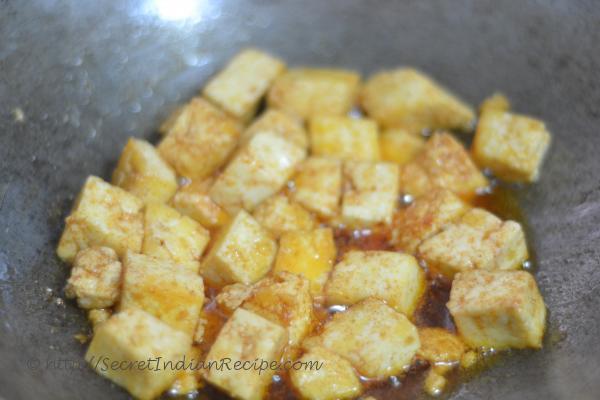 Ingredients:
Cooked Basmati Rice: 2 cups
Capsicum: 1 big cut in small cubes
Tomatoes: 2 chopped
Paneer: 1 cup
Green Chilies: 2-3 Finely chopped
Ginger garlic paste: 1 tbsp
Onions: 2 finely chopped
Salt to taste
Red chili powder: 1 tsp
Turmeric powdr: 1/2 tsp
Pav bhaji masala:2.5 tsp
Butter: 1 tbsp
Oil: 4 Tbsp
Coriander: 3 tbsp chopped
Chaat Masala: 1 tsp
Directions:
Before making the pulao, fry the panner in 2 tbsp oil till golden brown, fry it on low flame to avoid burning. When done drain on a paper towel and keep aside.
In the same kadhai, take remaining oil, add the onions and saute
When the onions turn tanslucent add 1 tsp salt and chilies, give it a good mix
Add ginger garlic paste, and cook for a minute. When the raw aroma of ginger and garlic reduces, add chopped capsicum and tomatoes
Mix well, cover and cook for 3 mins on medium heat
After 3 mins add turmeric powder, pav bhaji masala, red chili powder and 2 to 3 tbsp of water. Mix well. cover and cook till the masalas and veggies are cooked well and start releasing oil
Add the fried paneer and cook for a few seconds more. The paneer doesn't need much cooking as it is already fried
Add the rice to this masala and mix well. Make sure to coat every grain of rice with this masala. Cook for a minute
You may add 1 tsp of chaat masala at this stage, check for salt and mix well, The chaat masala gives that street foody flavour
Garnish with coriander and serve hot
Footnotes:
A trick to frying delicious panner: When frying panner if you add a pinch of salt and sugar in oil and then fry the paneer, it enhances it's flavour