Mundiri Thakkali Chutney - Cashew Nuts Tomato Gravy
This recipe can be complemented with with Dosa, Chapathi, Bread and rice. The main ingredients are Cashews and tomatoes. We prepare this dish in plenty without adding water and store it for several weeks.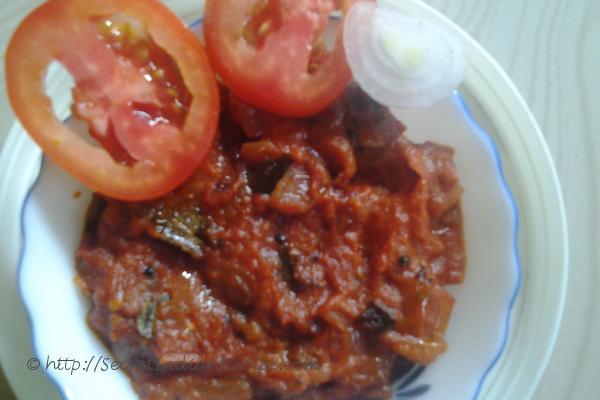 Ingredients:
Ripe Tomatoes - 500 grams
Vegetable oil - 3 tablespoons
Cashew nuts - 20 pieces
Onion - 1 chopped
Ginger & Garlic paste - 1 tablespoon
Mustard seeds - a pinch
Cumin seeds - half tsp.
Green chili - 2 sliced
Coriander powder - 1 tsp.
Salt to taste
Sugar - half tsp.
Coriander leaves - finely chopped
Turmeric powder
Directions:
Heat the Pan on low flame and add 3 tablespoon of vegetable oil
Add mustard seeds, cumin seeds and finely chopped onion and fry the onion till it turns golden colour.
Add cashew nuts and saute for few seconds, add with Ginger and garlic paste and fry it for 10 seconds
Now add sliced green chilies, Turmeric powder, coriander powder, and half tsp, of sugar, 1 tsp. of salt and tomatoes and saute it.
Saute the tomatoes till it becomes thick gravy. It should take approximately 2 to 5 minutes in medium flame for the tomatoes to become tender.
Once it's done add finely chopped coriander leaves for garnish.
Serve it hot with Dosa, Bread, Idlis and rice.
Footnotes:
Finely chop the tomatoes and onion. And use ripe tomatoes for best taste.
Adding water is optional. You may choose to prepare only with oil or if you wish you may add little water to the tomatoes.