Mungfali Chikki/ Gajak (peanut Chikki/ Gajak)
In North India, people eagerly wait for the chilling winters as everyone is charmed by the marvelous taste of chikkis/ gajaks. The kinds of gajaks available here, is very diverse and is highly demanded as it is one of the favorite snacks during winters. Not only gajaks taste great, but also are high in proteins and energy, providing enormous heat to the body. As Peanut Chikki is my all time favorite and is easy to make, I will be sharing its recipe here.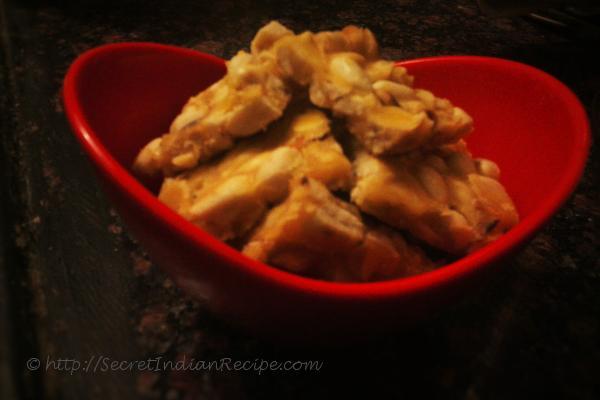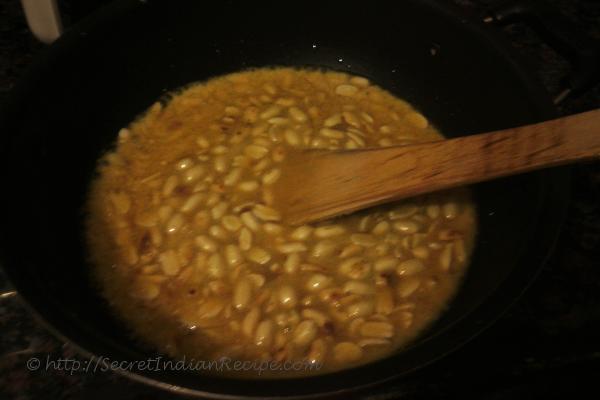 Ingredients:
Peanuts - 1 bowl
Jaggery - 1 bowl
Clarified Butter / Ghee - 2 tsp
Directions:
In a kadhai, roast peanuts well and remove from flame.
Peel the skin of the peanuts and crush the peanuts softly with hands.
Now heat clarified butter in a kadhai and slowly add small pieces of jaggery.
Melt the jaggery on medium flame and keep sauteing it for 3 to 4 minutes.
Now add the roasted peanuts and mix well.
Keep cooking it on medium flame for another 5 minutes till the jaggery gets thicker.
Now, grease a plate with clarified butter and pour the mixture in it.
Evenly spread it in the plate with a spoon and allow it to cool for 5 minutes.
After 5 minutes, cut it in squares with a knife but don't remove from plate.
Allow it to cool and set in room temperature for half an hour.
Carefully remove the Chikki from the plate after half an hour. Your Peanut Chikki/ Gajak is ready to eat.
Footnotes:
The basic Chikki recipe will be the same but variations can be made by adding roasted sesame seeds, nuts, rose petals,etc.