Murg Pulao (chicken Cooked With Flavored Rice)
A delightful recipe full of flavor and taste.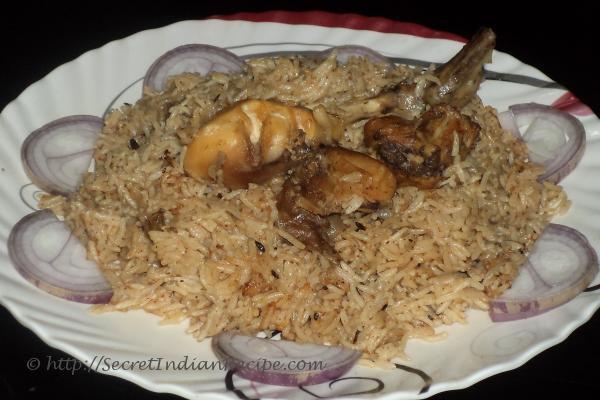 Ingredients:
chicken clean - 1 kg
Basmati rice - 750 grams
Butter - 300 gm
Salt - to taste
Garlic paste - 50 gm
Ginger paste - 50 gm
Sliced onion - 100 gm
Black pepper - 1 tablespoon
Black cardamom - 4 big ones
Cumin seeds - 1 tablespoon
Cinnamon - 1 inch stick
Red chili powder - 1 tablespoon
Coriander Powder - 1 Tablespoon
Cloves - 8
Directions:
Soak the rice in water for atleast 2 to 3 hrs.
To start, boil the chicken in big container , use at least that much water that after cooking the chicken also 1 liter water remains.cook it on low flame , add half of the spices in the boiling water. Once the chicken it done, take it out in a separate plate.
Take another pan add the butter to it , after butter gets hot, add the remaining spices to it and saute till the spices start getting golden , now add the boil chicken, but not the water . saute the chicken in the spices till it become light brown.
Now pour the chicken stock to the saute spices and chicken and add rice and cumin seeds to it,cover the container and cook it till the rice is cooked and dry , if you think that stock is not enough you can add some water.
after the pulaw is cooked ,it is ready to be served.
Other Indian Recipes that you may Like !