Murg Tikka Masala (chicken Tikka Masala)
A perfect marriage between the butter chicken and tandoori chicken. Perfectly marinated grilled chicken in a thick gravy, this dish is considered in the top ten popular dishes in the U.K. Something you can do when you have leftover tandoori chicken too.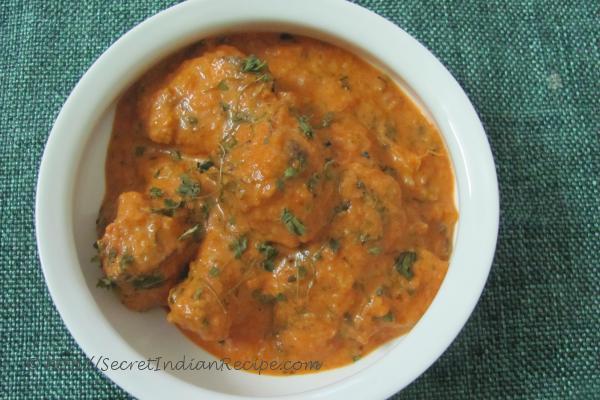 Ingredients:
Chicken- 1 kg
Onions- 4 -5
Freshly ground ginger- garlic paste - 2 tbsp
Minced garlic- 2 tsp
Turmeric powder- 2 tsp
Chilli powder- 2 tsp
Salt- to taste
Lemon juice - 2 tbsp
Curd- 1/4 cup
Kasoori methi ( Dried fenugreek leaves)- 1 tsp
Garam masala- 1 tsp
Tomato puree- 200 ml
Fresh cream- 200 ml
Oil- 4 tbsp
Kasoori methi- 1 tsp
Directions:
Marinate the chicken with minced garlic, lemon juice and salt and set aside or refrigerate for 1 hour.
Now add curd, 1 tsp chilli powder,1 tsp garam masala and 1 tbsp oil to the marinated chicken and refrigerate for another hour.
Now in a pan either shallow fry or grill the chicken pieces in a tandoor (clay oven) or oven for 20 minutes.
For the gravy heat the remaining oil in a pan and saute the sliced onions.
When the onions are translucent add the ginger garlic paste and saute till they brown.Now add the 2 tsp turmeric,1 tsp chilli and 1 tsp garam masala powder.
Saute the onions in the spice powders till the rawness dissipates. Now add the pureed tomatoes or readymade tomato puree followed by salt. Let the gravy simmer.
Add the grilled chicken to this gravy and let the meat infuse into the gravy let it simmer for five minutes. Add the cream and bring the curry to a final boil.
Add kasoori methi and the curry is ready.
Footnotes:
1.Dry roasting Kasoori methi and crumbling it for final garnish enhances the flavour as well as aroma.
2. For thicker gravy an alternate version is sauteing onion, garlic and tomatoes and making a gravy by blending these ingredients.
Other Indian Recipes that you may Like !