Murgh Chole (chicken Cooked With Chickpeas)
I came across this combination the first time at Cafe coffee day a popular coffee joint in India. They had offered murgh chole in the form of a sandwich. I was overjoyed at the combination. Because at home we mostly did chicken as a curry and chole as a separate dish but combining the both seemed interesting plus having it as a sandwich. I began making it with whatever I guessed the cafe coffee day sandwich had. I began serving it with rice, rotis, wraps and even salads. It is an awesome recipe when you are low on chicken and want a filling meal for unplanned days, or even when guests appear out of the blue. Cafe coffee day revamped their menu and don't serve these anymore but they will always be cherished for this inspiration.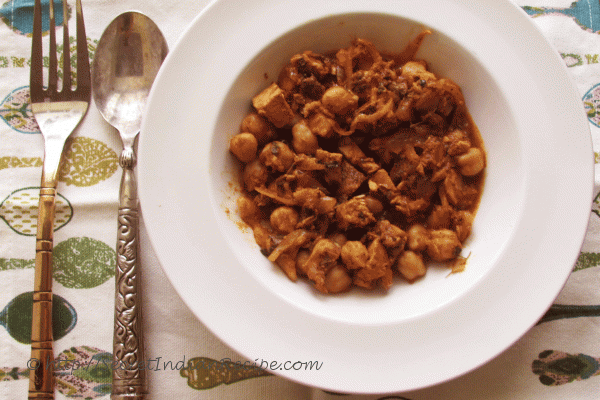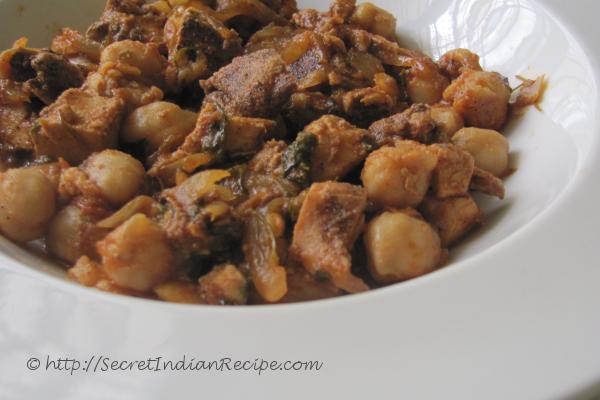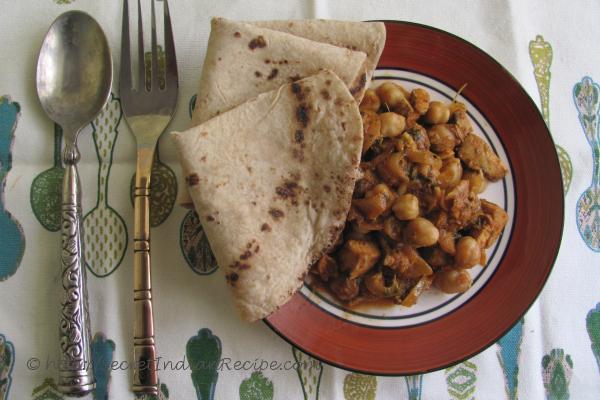 Ingredients:
Chole- 250g
Chicken- 200g (Boneless)
Onions-3
Ginger- 1 inch piece
Garlic- 10 cloves
Green Chilies-6
Tomatoes- 6
Kasoori methi- 2 tsp
Turmeric powder- 1/2 tsp
Chili powder- 1 tsp
Garam Masala- 1 tsp
Curd- 5 tbsp
Oil- 4 tbsp
Salt- to taste
Coriander leaves- to garnish
Cumin powder- 1/4 tsp
Water- 1/4 cup
Directions:
Soak the chole overnight or at least 8 hours and pressure cook up to 2 whistles. In a pan heat the oil and add chopped onions and green chilies.
When the onions brown, add freshly minced ginger and garlic. Once the ginger garlic paste has browned add the tomatoes followed by salt.
Let the tomatoes break down to form a juicy paste and then add all the spice powders. Roast the spices well and then add the chicken.
Allow the chicken to absorb the flavours and cook over low flame for 10 minutes for this to happen.
After 10 minutes, add the chole. Reserve the stock the chole was cooked in and only add the chole at this point.
Stir the chicken and chole and add half of the reserved stock. Bring the curry to a boil and let it simmer for 10 minutes.
If you need more gravy add the remaining stock after 5 minutes. Once the chole and chicken have cooked sufficiently, garnish with coriander leaves and the curry is ready to serve.
Serve with rotis or stuff into a wrap or paratha with some mint chutney and chopped onions.
Other Indian Recipes that you may Like !