Murgh Malvani Or Chicken Cooked In Spicy Gravy Made With Flavour Of Malvani Masala
Murgh Malvani or chicken cooked in spicy gravy made with flavour of malvani masala, is a non-vegetarian dish, which is quite popular in Maharashtra and the Konkan region. Malvani Cuisine has its own distinct way of cooking food. The coconut forms the main ingredient, and it is used liberally in various forms such as grated, dry grated, fried, coconut paste and coconut milk. Many masalas will have dried red chilies and other spices like coriander seeds, peppercorns, cumin, cardamom, ginger, garlic, etc. So the Malvani cuisine curries are predominantly hot and spicy. Traditionally, Murgh Malvani is served with vade which is a fluffy, fried bread of wheat and nachni flour, looking similar to puri.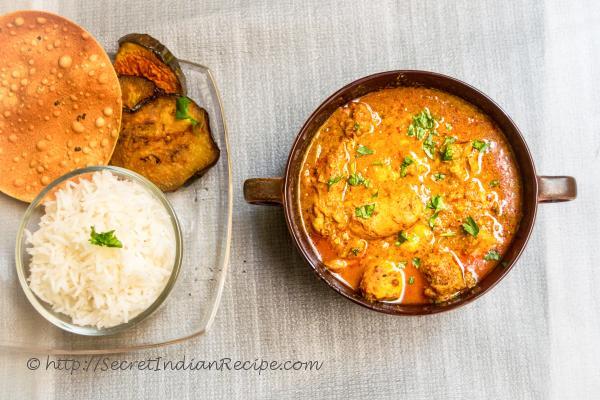 Ingredients:
750 gms of Chicken cut into cubes( skinless with in bone or boneless)
8-12 Dried red chillies broken
1 knob Ginger peeled, grated or finely chopped
6-8 Garlic cloves smashed, peeled and grated or finely chopped
3/4 teaspoon Cumin seeds
3/4 teaspoon Caraway seed (shahi jeera)
6-8 Cloves
6 Green Cardamoms
2 Black Cardamoms
8 Black Peppercorns
1.5 teaspoons Poppy seeds (khuskhus/posto)
3/4 cup dried Coconut ( khopra) grated
Salt to taste
3 teaspoon Coriander seeds
2 tablespoons Oil
3 medium Onions finely chopped
3/4 teaspoon Turmeric powder
Directions:
Marinate the chicken with salt, ginger and garlic and let it rest in a refrigerator for 30 minutes.
Dry roast cumin seeds, caraway seeds, cloves, green cardamoms, black cardamoms, black peppercorns, poppy seeds, dried coconut, red chillies and coriander seeds for 5-6 minutes on low heat till fragrant. Cool and grind to a powder.
Heat oil in a deep non-stick pan. Add onions, turmeric powder and saute till they are light brown, soft and translucent.
Add chicken and mix. Add the masala powder and mix well. Add 2 cups of water and cook, covered, till the chicken is done, about 20-30 minutes.
Serve Murgh Malvani hot with traditional vade (fluffy, fried bread of wheat and nachni flour) , puri, naan , chappati or hot steaming rice.
Other Indian Recipes that you may Like !