Murgh / Murg Musallam ( Whole Chicken Stuffed With Spices)
Murgh musallam is traditional Muslim / Mughal recipe which has been popularized across the world now. The name comes from its style of cooking. Murgh stands for chicken and musallam is filling of masala. Hence murgh musallam actually means chicken filled with masala (spices). It is rich in protein and animal fat. Just Like Mughal Biryani, Murg Musallam has variations in taste and ingredients. This is one of the festive recipes which I learned from my Mother in law. My late father in law used to like eating....eating good food and trying out cuisines of all regions and all culture. My mother in law sometimes tell me stories of how he used to take the recipes from his trader friends from different community and used to guide her in cooking them at home. This is how my Mother in law learned cooking Hilsa and Chingri Malai curry. In those days usage of internet was very limited and searching these recipes from the net was a distance dream. This is the reason why I find her recipes always tasty, because these were learned from people who were experts and were habituated in cooking these delicacies.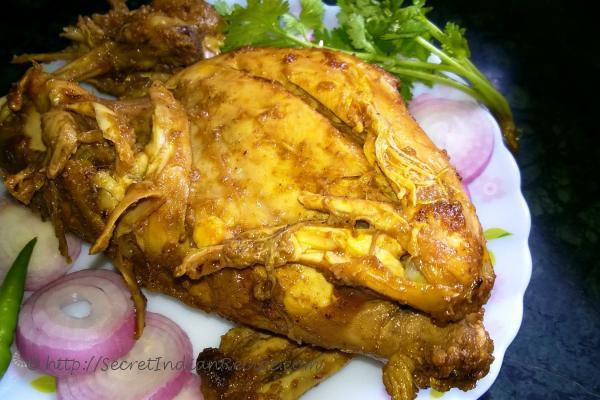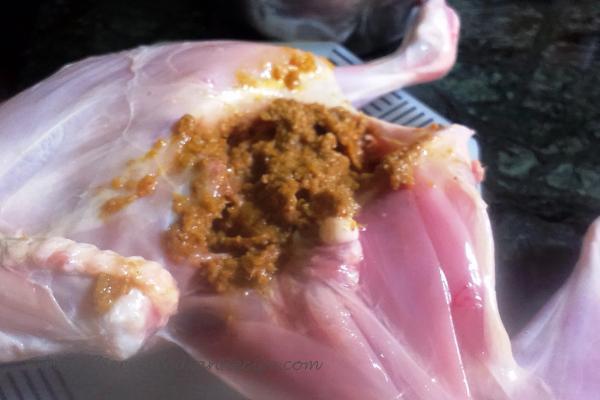 Ingredients:
Whole chicken 1 piece (cut from the middle and cleaned and washed thoroughly)
Onion paste 1 onion
Garlic paste 1 and ½ tablespoon
Ginger paste 1 and ½ tablespoon
Cumin powder 1 tablespoon
Black pepper powder ½ tablespoon
Turmeric powder 1 tablespoon
Cashew paste 2 tablespoon
Poppyseed paste 2 tablespoon
Salt 1 tablespoon
Refined oil 4 tablespoon
Ghee 1 tablespoon
Butter – 1 tablespoon
Garam masala powder 1 tablespoon
Directions:
Marinate the whole chicken with turmeric and ½ tablespoon salt for 1 hour.
In a pan or karahi pour 2 tablespoon oil. Once the oil is heated, add the onion and ginger garlic paste and fry for a mintue.
Afterwards add the cumin powder, black pepper powder, red chili powder and again sauté for a mintue.
Add the cashew, poopy paste and salt and fry for 2 mintues.
Remove the pan from the fire and keep it aside. Take the marinated chicken on a plate and with the help of a spatula fill the half cooked masala in the chicken.
In a shallow pan put the rest of the oil and Ghee and keep the marinated and masala filled chicken in the pan. Add ½ cup of water and cover the pan with a lid. Cook for 10-15 mintues on lowest possible flame.
Carefully turn the chicken in between so that all the sides are cooked. Check after 15 mintues if the chicken has become tender or not. Once the chicken is cooked take it out on a plate apply the butter and serve hot with chapatti.
Footnotes:
Murgh Mussalam can be cooked in oven. For this preheat the oven and cook it for 15 mintues. Flip it on the other side and then cook it again for 15 mintues.
Other Indian Recipes that you may Like !