Muri Ghanto Chal Diye (fish Head Curry With Rice )
We Bengalis are fond of fish. We do not waste any part of fish. We use the pieces of fish, fish fat, tail,fish egg and even the fish head. Fish head is used in various Bengali foods. Muri ghanto is one of those dishes. It's a famous Bengali dish.
I learned to make it from my kakimoni (my aunt ).She is a very good cook . I have tasted this dish in many places. But, in my opinion ,my kakimoni makes the best muri ghanto. She told me that she learned to make this from her mother. Her mother was formerly a citizen of Bangladesh.Bengalis of kumilla (Bangladesh)cook "muri ghanto "in this way.My kakimoni told me this recipe.
Now let's go inside the kitchen and start cooking.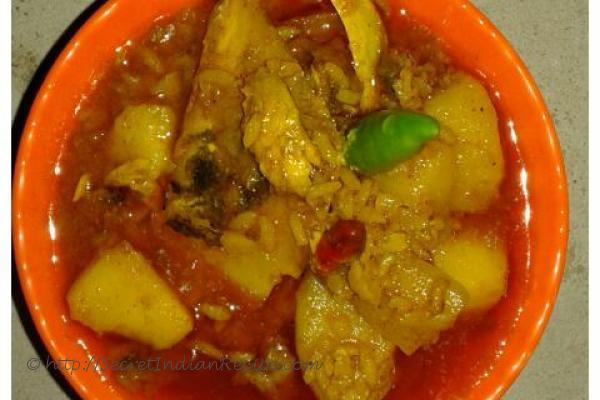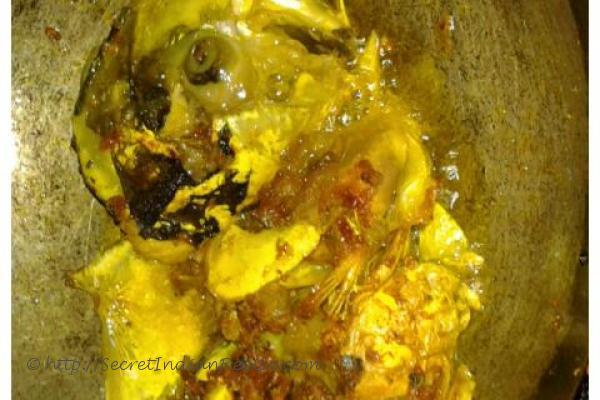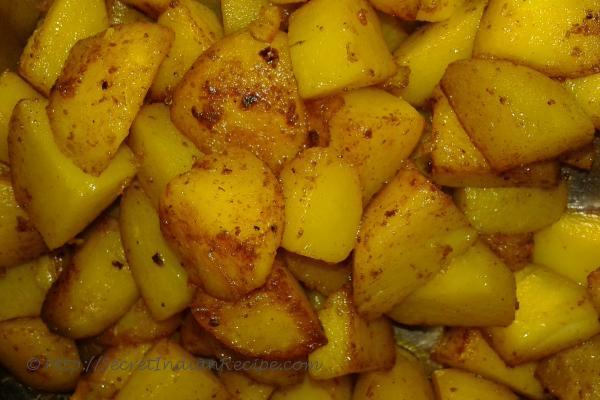 Ingredients:
Fish head -1 (big size )
Gobindabhog rice or basmati rice- 2tablespoons (washed and soaked )
Potato-2 (medium size)
Oil-1cup
Sugar -1 teaspoon
Bay leaves -2
Ghee- 1 teaspoon
Cardamom -2 (whole )
Cinnamon -1inch
Turmeric powder -3 teaspoons
Red chilli powder -2 teaspoons
Garam masala powder -1/ 2 teaspoon
Garlic paste -1/2teaspoon
Ginger paste -1 teaspoon
Green chillies (chopped ) -2 teaspoons
Onions ( chopped ) - 2/3 cup
Cumin powder -1 teaspoon
Coriander powder-1/2teaspoon
Roasted peanuts -2tablespoons
Raisins 1 tablespoons
Directions:
Marinate the fish head with 2teaspoon of turmeric powder and salt .You don't need to keep it aside for sometime . Heat the oil till smoky.Fry it on medium flame till it becomes yellow from all sides. Take it in a bowl and break this into pieces.
Peel and cut the potatoes into small pieces. Mix turmeric powder and salt with it. Fry in medium flame till the potatoes become soft.
Now in a bowl mix turmeric powder, cumin powder, coriander powder, red chilli powder, ginger paste and 1/2 cup water.
Now take a wok.Heat 3 tablespoons of oil.Temper with bay leaves, cardamom and cinnamon. Stir well for 30seconds in medium flame. Add onions, green chillies and sauté for 2 or 3minutes on medium flame .Add garlic paste. And again sauté for 30seconds .Now add the masala mixture .
Add rice and fry for 1 or 2 minutes.
Put potatoes and fish head. Also add salt and sugar .Add 2 cups of water and bring it to a boil. Cook for 5 or 7 minutes more.
Add garam masala powder, ghee, peanuts and raisins. Stir well.Then switch off the gas.
Footnotes:
Serve with plain rice.
Remember, this dish won't be dry. It would be like a curry.