Muringa Ila Omelette (drumstick Leaves Omelette)
Muringa ila omelette or drumstick leaves omelette is a dish which provides high nutritional value, especially for infants. This non spicy recipe contains all the vitamins and proteins provided by both egg and drumstick leaves. Drumstick leaves are used as a traditional medicine for stomach pain, cancer, high blood pressure, etc. This recipe is very simple to make and this is the only way that my daughter eats up drumstick leaves.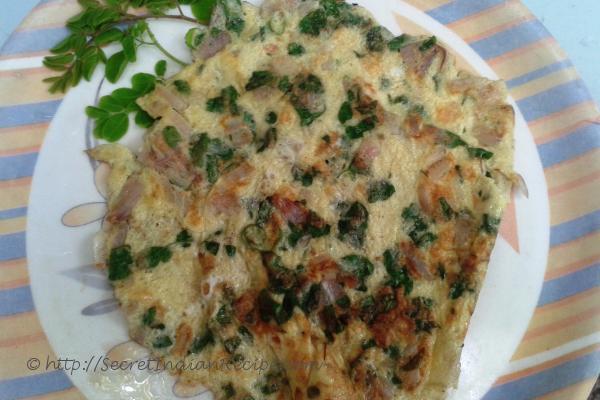 Ingredients:
Drumstick leaves -1/4 cup.
Egg -4 nos.
Green chilli, chopped - 2 nos.
Onion, chopped – 1 big.
Curry leaves-a few
Salt –as you need.
Oil-1 teaspoon
Directions:
Take a bowl and beat the eggs using an egg beater.
Then add the chopped onion, green chilli, salt, curry leaves and drumstick leaves into the egg and beat it again.
Switch on the pan and place a frying pan on the stove.
Sprinkle some oil on the pan and heat it.
Then pour the beaten egg mixture into the pan and spread it around.
Sprinkle some oil above the omelette.
When one side is done, turn the other side and cook for about 2 more minutes.
Healthy and tasty drumstick leaves omelette is ready to serve.
Footnotes:
If you want this dish to be spicy, you can add some pepper powder into it.