Murmura Chikki (puffed Rice Candy)
Murmura chikki is a popular sweet during Lohri and is prepared from puffed rice and jaggery. There's hardly anyone who isn't familiar with this. It is a best alternative for the 7 PM hunger pangs. Personally I like the Murmura chikki (Puffed Rice) and another one that I remember is the one made with Sev that I will share soon. It is filling and full of taste.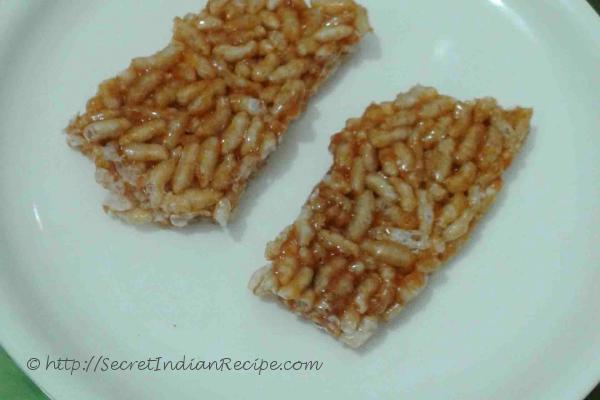 Ingredients:
Grated jaggery (gur) - 1/4 cup
Puffed rice (murmura) - 11/4 cups
A pinch of cardamom (elaichi) powder
Ghee - 1 Tablespoon
Directions:
Roast the murmure in a heavy bottomed pan over a slow flame till they are crisp and keep them aside.
In a heavy bottomed pan, add ghee and jaggery.
Heat on a low flame and keep stirring it continuously.
Once the jaggery turns golden brown in colour, turn off the gas.
Now add the roasted murmure and cardamom powder in jaggery and mix well for 3 to 4 minutes or until all murmure are covered with jaggery.
Evenly spread it on a greased tray as thin as possible. Allow it to cool.
When the mixture is warm make cuts with knife. When it reaches to room temperature break the chikki from the cuts.
Let it cool and store in an air-tight container.
Footnotes:
You can replace jaggery with sugar.