Murmuryacha Chivda (puffed Rice Snack)
This recipe is a quick and healthy snack and uses very little oil. Packed with crunch, tasty ingredients and rice crisps, it can be made in a jiffy. The addition of sesame, poppy seeds, groundnuts and coconut makes it a source of healthy oils and calcium. The roasted chana dal packs it with protein and fibre. It can be made and stored in large boxes and is a favourite snack to munch on. The caramelized sugar gives this otherwise savoury recipe an interesting taste. It is low in calories and makes a good accompaniment to tea, milk or coffee. Packed in zip lock bags, you can carry it to the office.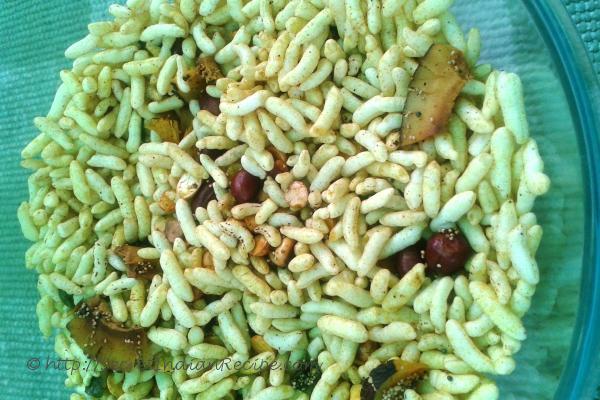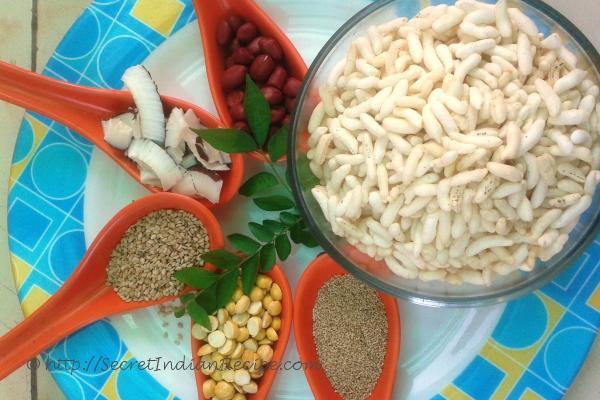 Ingredients:
3 cups puffed rice/murmura or kurmura (salted)
2 tsp mustard seeds
1 tsp turmeric powder
1 tsp chilli powder
Few curry leaves
2 tbsp sesame seeds
2 tbsp poppy seeds
½ cup roasted chana dal
½ cup groundnuts
¼ cup coconut slivers
1 tbsp oil
2 tsp sugar
Directions:
Heat the oil in a large pan.
Add mustard seeds, allow the seeds to crackle.
Add turmeric powder and chilli powder.
Quickly add curry leaves, coconut slivers, roasted chana, and groundnuts.
Add sesame seeds and poppy seeds.
Sauté, until all ingredients take a nice brown color.
Add the puffed rice and stir continuously.
Add sugar. Mix well.
Store this snack in an airtight container when it reaches room temperature.
Footnotes:
If the puffed rice that you are using is not the salted variety add salt to taste.